19" Rack Hardware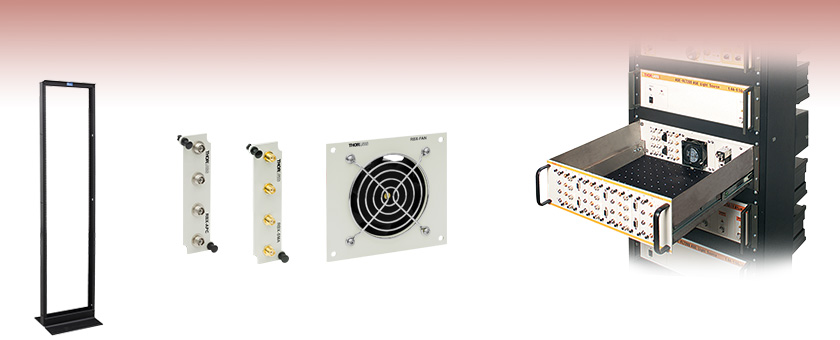 7' x 19" EIA Width Full Size Floor Standing Rack
Side Holes Allow Multiple Racks to be Bolted Together
Weight Capacity: 750 lbs (Load Must be Evenly Distributed)
Extensive Series of Quick Connect
Subpanels (Not to Scale)
RK3884
Easy Access to Your Optical Layout when Open
Fully Protected when Closed
RBX-APC
RBX-SMA
RBX-FAN

Please Wait
These heavy-duty 19" equipment racks are an ideal lab organizer, capable of holding up to 750 lbs of evenly distributed weight along their height. Thorlabs offers a wide variety of accessories to enhance the functionality of these racks ranging from fiber and BNC patch panels to modular prototyping enclosures and storage shelves. Each components that fits in the rack system has a height defined in rack units (U). This unit indicated how much space the component will take up in the equipment rack. A comprehensive list of rack products and related accessories are available below.
19" equipment racks that attach directly to our ScienceDesk™ Workstations or Nexus® Optical Table Workstations are also available.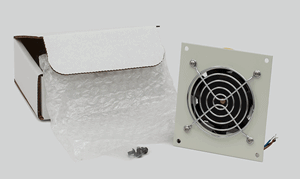 Click to Enlarge
RBX-FAN Packaging

Item #
% Weight
Reduction
CO2-Equivalent
Reductiona
RBX-FAN
12.21%
0.60 kg
RBX-AC
14.97%
0.73 kg
Smart Pack
Reduce Weight of Packaging Materials
Increase Usage of Recyclable Packing Materials
Improve Packing Integrity
Decrease Shipping Costs
Thorlabs' Smart Pack Initiative is aimed at waste minimization while still maintaining adequate protection for our products. By eliminating any unnecessary packaging, implementing packaging design changes, and utilizing eco-friendly packaging materials for our customers when possible, this initiative seeks to improve the environmental impact of our product packaging. Products listed above are now shipped in re-engineered packaging that minimizes the weight and the use of non-recyclable materials.b As we move through our product line, we will indicate re-engineered packages with our Smart Pack logo.
Travel-based emissions reduction calculations are estimated based on the total weight reduction of packaging materials used for all of 2013's product sales, traveling 1,000 miles on an airplane, to provide general understanding of the impact of packaging material reduction. Calculations were made using the EPA's shipping emissions values for different modes of transport.
Some Smart Pack products may show a negative weight reduction percentage as the substitution of greener packaging materials, such as the Greenwrap, at times slightly increases the weight of the product packaging.