Our Manufacturing Locations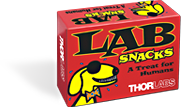 Thorlabs Inc
Newton, New Jersey, USA
Founded in 1989, Thorlabs has its headquarters in Newton, NJ. This location is also home to our mechanics, optics, fiber, advanced systems technology, and advanced applications teams as well as one of our three distribution warehouses. On-site manufacturing allows us to customize our products quickly and efficiently to meet specialized customer requests. Our technical support team, call center, marketing, and web development teams make their homes in Newton as well, and are dedicated to providing comprehensive customer support and services.
Thorlabs Ultrafast Optoelectronics
Michigan, USA
Based in Ann Arbor, Michigan, Thorlabs-UFO is focused on addressing the need for high-speed optoelectronic products with bandwidths as high as 100 GHz for deployment in applications outside of the traditional telecommunications market. Their products range from basic components to instrumentation and subsystems.
Thorlabs Vytran Division
Morganville, USA
Vytran, a division of Thorlabs, is located in Morganville, New Jersey and specializes in the production of high-performance fiber processing technologies.
Thorlabs Quantum Electronics (TQE)
Jessup, Maryland, USA
Our optoelectronics design and manufacture is housed at TQE. Here we have full in-house Indium Phosphide and Lithium Niobate capabilities and foundry services, as well as a state-of-the-art III-V Semiconductor and Lithium Niobate wafer fabrication area. Photolithography, etching, thin-film deposition, cleaving/dicing, optical coating, laser welding, and auto die attaching are all performed at this Maryland facility.
Thorlabs Imaging Systems
Sterling, Virginia, USA
Thorlabs VA specializes in systems-level design and integration of imaging equipment tailored to the life sciences and biomedical communities. We are a fully self-sufficient product design and development facility, striving to design imaging systems that meet the specific needs of our customers quickly and efficiently.
Thorlabs Scientific Imaging (TSI)
Austin, Texas, USA
Based in Austin, Texas, the TSI team is focused on the development of a line of scientific cameras for the life sciences market.
Thorlabs Canada ULC
Saint-Laurent, QC, Canada
Located in Montreal, our Canadian operation is focused on the production of fiber-based components.
Thorlabs, LTD.
Ely, United Kingdom
Employing over 120 individuals, our United Kingdom offices are dedicated to the design and manufacture of high-precision motion control systems and specialized vibration isolation products. The offices offer sales and technical support to our customers as well as same-day shipping and customized solutions to meet even the most demanding applications.
Thorlabs SAS
Maisons-Laffitte, France
As an international leader in the photonics industry, Thorlabs has focused its successes on customer appreciation and efficient customer support. In response to our growing European customer base, Thorlabs expanded its global presence to Maisons-Laffitte, France. Emphasizing our technical aptitude and attention to customer service, our French office provides technical support, technical sales, and order processing services. The team is supported by our worldwide engineering group for immediate technical assistance and by our European hub with same-day shipment for over 95% of Thorlabs' product portfolio.
Thorlabs Vytran Europe
Exeter, United Kingdom
Our Exeter office provides sales, service, and technical support to the European market for our Vytran™ fusion splicer and fiber processing systems.
Thorlabs GmbH
Dachau/Munich, Germany
Specializing in the development of optoelectronic devices and SD-OCT, our Germany office employs over 100 individuals, serves as our European distribution hub, and offers a demonstration center where customers can test products and meet with specialists. The multilingual technical sales and support team is dedicated to providing exceptional photonics solutions for our European customers.
Thorlabs Sweden AB
Mölndal, Sweden
Thorlabs Sweden AB has extensive experience designing and manufacturing optical systems such as Objectives, Scan Lenses, Beam Expanders, Collimators, Spectrometers, and Fabry-Perot Interferometers. The team frequently collaborates with researchers and OEM customers alike to produce custom optical system designs and subsystems tailored to the individual's needs.
Thorlabs Elliptec GmbH
Dortmund, Germany
Thorlabs' Elliptec group is dedicated to the production of OEM-grade motion control modules. With design and manufacturing facilities located in Dortmund, Germany, Elliptec's specialties include piezoelectric motors, actuators, and drive electronics, with a focus on compact modules that are purpose-built for systems integration.
Thorlabs GmbH (Lübeck)
Lübeck, Germany
A part of the German team specializes in the development, manufacturing and application support of SD-OCT and is located in Luebeck, Germany
Thorlabs Japan Inc.
Tokyo, Japan
The Thorlabs Japan office is centrally located in Tokyo and employs 30 individuals, many of whom have extensive experience with optical fiber devices. The sales office has a demonstration show room that offers customers the opportunity to view a broad range of Thorlabs' system-level products. This location is also dedicated to providing an Asian sales channel, a full Japanese website, and housing for a moderately sized warehouse, enabling quicker delivery to our Asian customers.
Thorlabs China
Shanghai, China
Thorlabs' Chinese office houses a growing sales, technical support, and design team. The facility also has a manufacturing center and design team that develops blueprints for liquid crystal devices, optical crystal devices, and high-speed analog circuits.
Thorlabs Vendas de Fotônicos Ltda.
São Carlos, SP, Brazil
As the newest addition to Thorlabs' worldwide presence, our Brazilian office serves as a South American hub for sales and technical support. A selection of items is stocked in Brazil. All other items can be imported for resale in R$ within two weeks if stock is available in our US warehouse.