Identification Supplies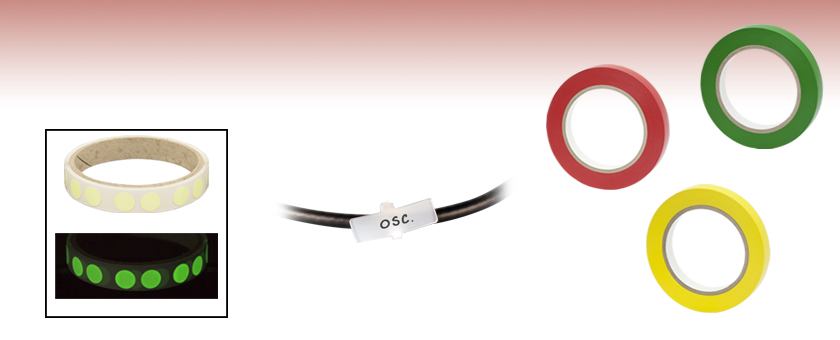 Photoluminescent Stickers for Dark Rooms
Colored Vinyl Tape
Cable Identification Ties
PLT2
Shown with the Lights On
Shown with the Lights Off
CMS021
Cable Identification Ties
VTR-050
VTG-050
VTY-050
Vinyl Tape

Please Wait
Thorlabs offers a variety of supplies for marking and identification of components and areas in laboratories.
Posted Comments:
No Comments Posted

Click for Details
Ideal for Dark Rooms
Mark Equipment, Doorways, Walkways, or Table Edges
100 Ø1/2" (Ø12.7 mm) Sticker Dots per Roll
Glow Time of up to 12 Hours
These vinyl photoluminescent stickers are ideal for marking doorways, table edges, and walkways, making movement within a dark room safer and easier. They can also be used to make it easier to locate equipment in a dark room. Each roll contains 100 Ø1/2" (Ø12.7 mm) photoluminescent sticker dots that have a glow time of up to 12 hours. Shown to the right is a comparison of how the photoluminescent dots appear with the lights on and off.
Each sticker charges in under three minutes. For information regarding the charge and glow times of these photoluminescent stickers, please click on the red docs icon below.
1/2" (12.7 mm) Wide Vinyl Tape
108' (32.9 m) Long Roll
Available in Red, Green, or Yellow
Colored rolls of vinyl tape are ideal for color coding fibers cables, electrical cables, tools, and samples. The semi-gloss finish can be written on with permanent marker, and the tape can be used in environments from 40 °F to 170 °F (5 °C to 76 °C), although it is best to apply the tape at room temperature.
Tie and Identify Bundles of Cable in One Step
Easy Method to Label Any Cable or Bundle Clearly
Fine-Tipped Pen Included
The CMS021 Cable Identification Ties (supplied in bags of 100) enable electrical and fiber optic cables to be bundled and labeled. They feature a zip tie design with a maximum cable size of ~Ø20 mm (0.78"), and a 25 mm x 7 mm (1.0" x 0.27") surface, thus allowing cables and bundles to be clearly labelled. A pen is included with each bag.