PACU™ Pure Air Circulator Unit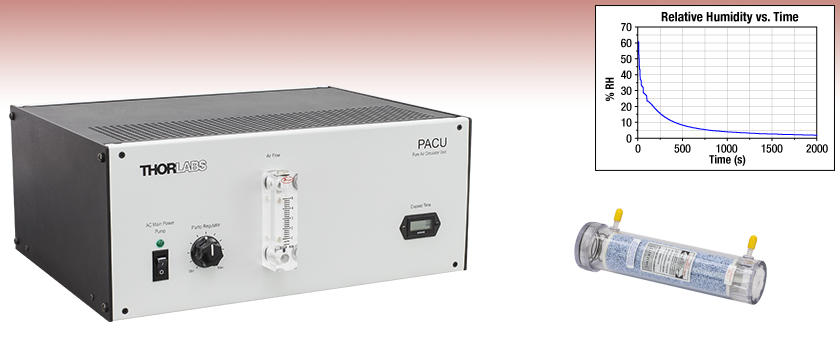 Filters Out Particulates, Volatile Organic Compounds, and Moisture
Continuously Variable Flow Rate
Rack-Mountable Enclosure
PACU
Pure Air Circulator Unit
PACU-FTR1
Desiccant Filter Replacement
3.0 L Chamber Being Purged
at Flow Rate of 3.0 L/min

Please Wait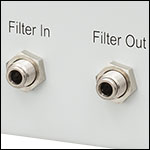 Click to Enlarge
Rear-Mounted Air Intake and Exhaust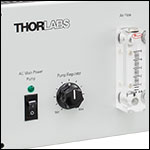 Click to Enlarge
Flow Rate Knob and Meter
Features
Three-Stage Filtration System Removes Moisture, Particulates, and Volatile Organic Compounds (VOC)
Ideally Suited for Closed-Loop Systems
Flow Rate Continuously Adjustable
Optional Rack Mounting
Replacement Filters and Tubing Also Available
Thorlabs' PACU™ Pure Air Circulator Unit excels at providing an extremely clean, dry atmosphere for closed-loop experimental setups. Consisting of dessicant and particulate filters in series, it can quickly and reliably purge contaminants from inside sealed experimental volumes, generating very-high-purity environmental conditions. This closed-loop laboratory air circulator is an ideal choice for use in infrared spectroscopy measurements, which can be extremely sensitive to water vapor. It is also useful in applications that benefit from a pure and clean atmosphere like the cavities of our Octavius femtosecond lasers. For enclosed SM1 lens tube systems, Thorlabs offers the CPPC(/M) Purge Connector, shown below.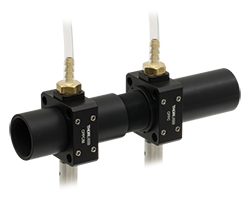 Click to Enlarge
SM1 Lens Tube
systems.
By simply connecting two hoses (one supply and one return) to the 1/4" Swagelok® compression fittings on the rear of the unit, the user gains a turnkey air filtration system, capable of providing a cleanroom-grade environment for several months without service. For external connections, Thorlabs recommends a low-outgassing tubing such as Chemfluor® 367 fluoropolymer (3/16" ID x 1/4" OD x 3/32" wall), 12' (3.66 m) of which is included with the air circulation system. Additional Chemfluor® 367 fluoropolymer tubing can be purchased below in 12' (3.66 m) and 24' (7.32 m) lengths.
This air circulation unit purifies air in three separate stages. First, air is passed through the Desiccant Filter designed to trap airborne water molecules. Next, air is passed through the 15 µm Particulate Filter which removes particulates with better than 95% efficiency. The final filter is the 13X Molecular Sieve, which traps volatile organic compounds. Replacement filters can also be purchased separately below.
The flow rate of the Viton membrane pump is continuously adjustable by a knob on the front panel and is measured by an in-line flow meter immediately before the output. A series of vent holes is provided on top of the housing, which makes it possible for the user to see if satuaration has occured in the desiccant without dismantling the unit. Pink desiccant indicates that the desiccant is saturated and should be replaced. An elapsed time counter on the front indicates how long the unit has been in service. For instructions on how to replace the desiccant filter, please see the circulator's manual.
The rack-mountable air purifier is housed in a 17.0" x 13.0" x 7.0" (431.8 mm x 330 mm x 178 mm) [L x W x H] enclosure. The side-mountable rack adapters that come with the system can be attached to the housing for use in a 19" Rack Cabinet.
PACU™ Specifications
Air Flow
Flow Ratea
0.6 to 4.5 L/min
Flow Meter Range
0.6 to 5 L/min
Compatible Air
Temperature Range
5 - 40 ºC
Filters
Moisture Trapb (Desiccant)
1.25 lbs (0.6 kg) Desiccant
Particulate Filters
15 µm, Sintered Pore Element Filter
13X Molecular Sieve, 1.1 lbs (0.5 kg)
Other
Air Pump
Micro-Diaphragm Pump with 4.5 L/min Max Delivery
Internal Tubing
Chemfluor® 367 Fluoropolymer Tubing, 3/16" ID x 1/4" OD x 3/32" Wall, 266 PSI
External Tube Fittings
Type 316 Stainless Steel, Chemical-Resistant PVDF Swagelok® Tube Fittings for 1/4" OD Tubing
Power Compatibility
110 - 230 VAC, 50 - 60 Hz Operation, Location Specific Power Cord Included
Dimensions (L x W x H)
19.0" x 13.0" x 7.0" (483 mm x 330 mm x 178 mm)
Weight
15.0 lbs (6.8 kg)
The maximum value of 4.5 L/min occurs when the intake and exhaust are short circuited (directly connected).
Moisture trap capacity: 50 g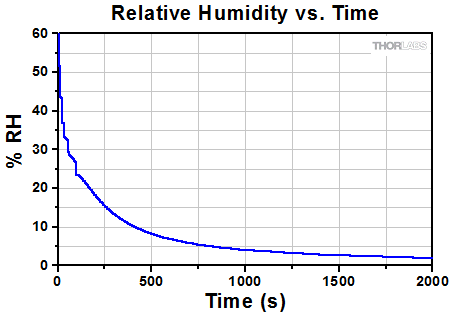 Click to Enlarge
An enclosure with a 3.0 L volume that contained a hygrometer probe was exposed to ambient conditions, then sealed and purged by the PACU™ at a flow rate of 3.0 L/min. After 33 minutes (2000 seconds), the relative humidity had dropped below the concentration measurable by the hygrometer, demonstrating near-complete removal of airborne water molecules.

Click to Enlarge
The graph above shows the water absorption spectrum of a boradband halogen source coupled to an OSA205C
Optical Spectrum Analyzer
through free space. The blue trace shows the spectrum without the air purification while the red shows the spectrum with air purification used to purge the OSA205C cavity. The use of the PACU Pure Air Circulator Unit reduces the water absorption inside the OSA.