Thorlabs offers two designs for 1/4" travel translation stages. The MS1 single-axis stage is actuated by an end-mounted 0.25 mm pitch thumbscrew. This stage is also the basis for our three-axis MS3 translation stage. The MS1S single-axis stage is actuated by a side-mounted micrometer. Since the MS1S removes the actuator from the translation axis, the MS1S is suitable for situations where it is necessary to mount the stage in close proximity to other components.
The modular design of these translation stage allows the user to quickly and precisely create multi-axis stage configurations using multiple MS1 or MS1S stages and stage plates. Each MS1 or MS1S stage has precision machined dowel holes in its top and bottom surfaces that allow two MS1 or MS1S stages to be connected together orthogonally within 2 mrad when the dowel pins are used. The MS series plates also have precision machined dowel holes. Each stage also features a side-located mounting plate that allows the stage to be locked in position using a 0.05" (1.3 mm) hex key.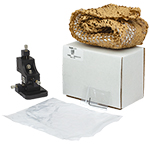 Click to Enlarge
MS3 Packaging
Smart Pack
Reduce Weight of Packaging
Increase Usage of Recyclable Materials
Improve Packing Integrity
Decrease Shipping Costs
Thorlabs' Smart Pack Initiative is aimed at minimizing waste while providing adequate protection for our products. By eliminating any unnecessary packaging, implementing design changes, and utilizing eco-friendly materials, this initiative seeks to reduce the environmental impact of our product packaging.
The updated MS3(/M) packaging primarily consists of recycled paper and cardboard and weighs 8.22% less than the original packaging. This weight change results in a 0.55 kg reduction in travel-based CO2 emissions per year, based on typical product sales.
As we move through our product line, we will indicate re-engineered, eco-friendly packaging with our Smart Pack logo, which can be seen above.