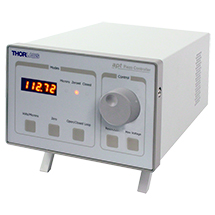 Click to Enlarge
BPC301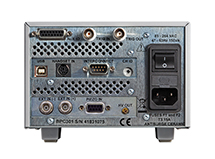 Click to Enlarge
BPC301 Rear Panel
Features
Variable Output Selection: 75 V, 100 V, or 150 V
Closed-Loop PID with Advanced Control Algorithm
Strain Gauge or Capacitive Sensor Feedback Options
High-Resolution Position Control for Very Fine Positioning Applications
Voltage Ramp/Waveform Generation Capability for Scanning Applications
High Bandwidth (10 kHz) Piezo Positioning
Auto-Configure Function for Thorlabs Ident-Equipped Piezo Actuators
User-Controlled Digital I/O Port
USB Plug-and-Play – Multiaxis Expansion
Motor Control I/O Port (Jogging, Interlocks)
Full Software Control Suite Supplied
Intuitive Software Graphical Control Panels
Extensive ActiveX® Programming Interfaces
Fully Software Integrated with Other APT™ Family Controllers (Integrated Systems Development)
These single- and 3-channel, high-power (150 V) benchtop piezo controllers provide open- or closed-loop nanometer position control. They have been designed to drive our full range of open- and closed-loop piezo-equipped nanopositioning actuators and stages. In addition, flexible software settings make these units highly configurable and therefore suitable for driving a wide range of third-party piezo elements. A waveform generation capability combined with triggering outputs make these units particularly suitable for piezo scanning applications.
Manual controls are located on the front face of the unit to allow manual adjustment of the piezo position using the digitally encoded adjustment pot. The display is easy to read and can be set to show either applied voltage or position in microns. Open- or closed-loop control and zeroing of the piezo can also be selected from the front panel.
USB connectivity provides easy plug-and-play PC operation. Multiple units can be connected to a single PC via standard USB hub technology for multi-axis motion control applications. Coupling this with the user-friendly APT™ software allows the unit to get up and running quickly. For example, all relevant operating parameters are set automatically for Thorlabs' piezo actuated products. Advanced custom motion control applications and sequences are also possible using the extensive ActiveX® programming environment, which is described in more detail on the Motion Control Software tab. These ActiveX Controls can be incorporated into a wide range of software development environments including Labview, C++, and Matlab.
Specifications (Per Channel)
Item #
BPC301
BPC303
Piezoelectric Output (SMC Male)
Voltage (Software Control)
75 V, 100 V, or 150 VDC
Current
500 mA Continuous (Max)
1 A Continuous (Max)
Stability
100 ppm Over 24 Hours (After 30 min Warm-Up Time)
Noise
<3 mV RMS
Piezo Capacitance
1 to 10 µF (Typical)
Bandwidth
10 kHz (1 µF Load, 1 Vp-p)
External Input (BNC)
Input Type
Differential or Single Ended
Input Voltage for Full Range
(i.e. 75 V, 100 V or 150 V)
10 V ±2%
Max Output
75 V Range: -10V to 90 V DC
100 V Range: -10V to 115 V DC
150 V Range: -10 V to 159 V DC
Position Feedback (PIEZO IN) (9-Pin D-Type Female)
Feedback Transducer Typea
Strain Gauge or Capacitive Sensor
Detection Method
AC Bridge (18 kHz Excitation)
Typical Resolution
5 nm (for 20 µm Actuator e.g., PAZ005)
Auto Configure
Identification Resistor or Stage ID EEPROM in Actuator
User Input/Output (AUX IO) (15-Pin D-Type Female)
4 Digital Inputs
TTL Levels
4 Digital Outputs
Open Collector
Trigger Input/Output
TTL
Trigger Input Functionality
Triggered Voltage Ramps/Waveforms
Trigger Output Functionality
Trigger Generation During Voltage Ramp Output
User 5 V (with Ground)
250 mA (Max)
Specifications (Main Unit)
Item #
BPC301
BPC303
Front Panel Controls
Display
5-Digit, 7-Segment
Buttons
Channel Select, Volts/Microns Select, Open/Closed Loop Select, Zero,
Resolution, Max Voltage
Display Brightness
Adjustable
Resolution
Switchable Coarse and Fine Adjustment
Output
Infinite Turn Precision Digital Potentiometer (Encoder)
USB Port
Version 2.0 Full Speed Compatible
Input Power Requirements
Voltage
85 - 264 VAC
Power
150 VA
250 VA
Fuse
3.15 A
3.15 A
General
Housing Dimensions (W x D x H)
152 mm x 244 mm x 104 mm
(6" x 9.6" x 4.1")
240 mm x 360 mm x 133 mm
(9.5" x 14.2" x 5.2")
Weight
3.18 kg (7 lbs)
6.7 kg (14.75 lbs)
The graphs below show the drive voltage/frequency response at different capacitive loads for the BPC301 and BPC303.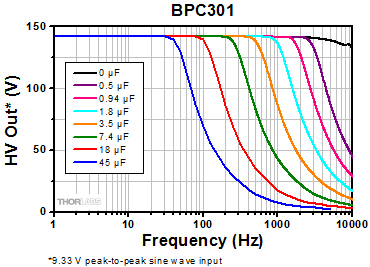 Click to Enlarge
Click Here for Raw Data

Click to Enlarge
Click Here for Raw Data
Piezo In
D-Type Female

| Pin | Description | Pin | Description | Pin | Description |
| --- | --- | --- | --- | --- | --- |
| 1 | Strain Gauge Excitation | 4 | Ground | 7 | Actuator ID Signalb |
| 2 | +15 V Outa | 5 | AC Feedback In | 8 | Reserved for Future Use |
| 3 | -15 V Outa | 6 | Ground | 9 | Reserved for Future Use |
Interconnect
D-Type Male
| Pin | Description | Pin | Description | Pin | Description |
| --- | --- | --- | --- | --- | --- |
| 1 | Not Connected | 4 | Not Connected | 7 | Not Connected |
| 2 | RX (Controller Input) | 5 | Ground | 8 | Not Connected |
| 3 | TX (Controller Output) | 6 | Not Connected | 9 | Not Connected |
AUX I/O
D-Type Female

| Pin | Description | Return | Pin | Description | Return | Pin | Description | Return |
| --- | --- | --- | --- | --- | --- | --- | --- | --- |
| 1 | DIG O/P 1 | 5, 9, 10 | 6 | DIG I/P 1 | 5, 9, 10 | 11 | For Future Use (Trigger OUT) | 5, 9, 10 |
| 2 | DIG O/P 2 | 5, 9, 10 | 7 | DIG I/P 2 | 5, 9, 10 | 12 | For Future Use (Trigger IN) | 5, 9, 10 |
| 3 | DIG O/P 3 | 5, 9, 10 | 8 | DIG I/P 3 | 5, 9, 10 | 13 | DIG I/P 4 | 5, 9, 10 |
| 4 | DIG O/P 4 | 5, 9, 10 | 9 | DIG Ground | - | 14 | 5 V Supply Output | 5, 9, 10 |
| 5 | DIG Ground | - | 10 | DIG Ground | - | 15 | 5 V Supply Output | 5, 9, 10 |
Handset In
| Pin | Description | Pin | Description |
| --- | --- | --- | --- |
| 1 | RX (Controller Input) | 4 | +5 V, 100 mA Supply for Joystick |
| 2 | Ground | 5 | TX (Controller Output) |
| 3 | Ground | 6 | Ground |
USB
B-Type Female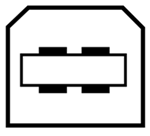 HV Out
Male SMC



Output Voltage: 0 - 150 V
Current: 0 - 500 mA
Trig In and Trig Out
BNC Connectors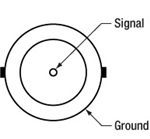 Input Trig Voltage: 0 - 7 V DC
Output Trig Voltage: 0 - 5 V DC
EXT In (+) and EXT In (-)
BNC Female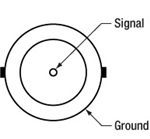 Input Voltage: 0 - 10 V
Input Impedance: 20 kΩ
Flexibility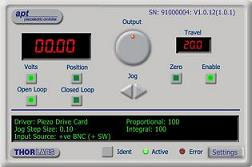 The BPC300 Series are the latest generation piezo controllers to be added to the apt™ motion control family. They have been designed for use in critical alignment applications where manual or automated nanometer level motion control is required. These high power yet low noise units deliver up to 150 V per channel and are compatible with all piezo-actuated nanopositioning actuators and stages in the Thorlabs range. They combine the latest high speed digital signal processors (DSP) with low-noise analog electronics and ActiveX® software technology for effortless software controlled piezo motion.
To support such a wide range piezo actuators these apt™ piezo units are fully configurable through software accessable key parameter settings. Intuitive easy to use software graphical panels allow immediate control and visualization of the operation of the piezo controller – adjustment of many key parameters is possible through direct interaction with the graphical panel. Open or closed loop operating modes can be selected 'on the fly', and in both modes the display can be changed to show drive voltage or position (in microns). In the closed loop operation mode, both the P & I (proportional and integral) components of the feedback control loop can be altered to adjust the servo loop response. The output drive voltage or position can be adjusted by rotating the software-pane" control knob.
Note that all such settings and parameters are also accessible through the ActiveX programmable interfaces which allow the user to build automated alignment routines. Refer to the Motion Control Software tab for further information on the apt™ software support for the BPC200 Series.
Waveform Output/Triggering
Over and above open and closed loop piezo positioning the DSP controllers within the BCP300 Series offer additional and useful functionality. Through software it is possible to program in a voltage (or position) ramp or waveform as a table of values and then instruct the controller to output (clock out) this table either 'single shot' or continuously. It is possible to specify a hardware output trigger to be generated at a specific point during the waveform output in order to control third party equipment as a function of the piezo voltage (position). Alternatively an external system can trigger the piezo unit to initiate the waveform output in the reverse scenario. This functionality is particularly useful for piezo scanning applications.
Full Software GUI Control Suite & ActiveX® Controls Included
A full and sophisticated software support suite is supplied with the BPC300 controller. The suite includes a number of out of the box user utilities to allow immediate operation of the unit without any detailed pre-configuration. All operating modes can be accessed manually and all operating parameters changed and saved for next use. For more advanced custom motion control applications, a fully featured ActiveX® programming environment is also included to facilitate custom application development in a wide range of programming environments. Note that all such settings and parameters described above are also accessible through these ActiveX® programmable interfaces. For further information on the apt™ software support for the BPC300 units refer to the Motion Control Software tab. Demonstration videos illustrating how to program the apt™ software are also available for viewing.
The ActiveX® apt™ system software shipped with these units is also compatible with other apt™ family controllers including our multi-channel rack-based system and smaller optical table mountable 'Cube' controllers. This single unified software offering allows seamless mixing of any apt™ benchtop, table top and rack based units in any single positioning application.
The key innovation of the apt™ range of controllers and associated mechanical products is the ease and speed with which complete automated alignment/positioning systems can be engineered at both the hardware and software level. All controllers in the apt™ range are equipped with USB connectivity. The 'multi-drop' USB bus allows multiple apt™ units to be connected to a single controller PC using commercial USB hubs and cables. When planning a multichannel application, simply add up the number and type of drive channels required and connect together the associated number of APT controllers.
Software Developers Support CD
A developers' kit is shipped with all of our apt™ series controllers. This additional software support is intended for use by software developers working on large, system integration projects that incorporate apt™ products. The kit contains an extensive selection of useful code samples as well as a library of Video Tutorials.
Thorlabs offers two platforms to drive our wide range of motion controllers: our Kinesis® software package or the legacy APT™ (Advanced Positioning Technology) software package. Either package can be used to control devices in the Kinesis family, which covers a wide range of motion controllers ranging from small, low-powered, single-channel drivers (such as the K-Cubes™ and T-Cubes™) to high-power, multi-channel, modular 19" rack nanopositioning systems (the APT Rack System).
The Kinesis Software features .NET controls which can be used by 3rd party developers working in the latest C#, Visual Basic, LabVIEW™, or any .NET compatible languages to create custom applications. Low-level DLL libraries are included for applications not expected to use the .NET framework. A Central Sequence Manager supports integration and synchronization of all Thorlabs motion control hardware.
Kinesis GUI Screen
APT GUI Screen
Our legacy APT System Software platform offers ActiveX-based controls which can be used by 3rd party developers working on C#, Visual Basic, LabVIEW™, or any Active-X compatible languages to create custom applications and includes a simulator mode to assist in developing custom applications without requiring hardware.
By providing these common software platforms, Thorlabs has ensured that users can easily mix and match any of the Kinesis and APT controllers in a single application, while only having to learn a single set of software tools. In this way, it is perfectly feasible to combine any of the controllers from single-axis to multi-axis systems and control all from a single, PC-based unified software interface.
The software packages allow two methods of usage: graphical user interface (GUI) utilities for direct interaction with and control of the controllers 'out of the box', and a set of programming interfaces that allow custom-integrated positioning and alignment solutions to be easily programmed in the development language of choice.
A range of video tutorials is available to help explain our APT system software. These tutorials provide an overview of the software and the APT Config utility. Additionally, a tutorial video is available to explain how to select simulator mode within the software, which allows the user to experiment with the software without a controller connected. Please select the APT Tutorials tab above to view these videos.
Software
Kinesis Version 1.14.25
The Kinesis Software Package, which includes a GUI for control of Thorlabs' Kinesis and APT™ system controllers.
Also Available:

These videos illustrate some of the basics of using the APT System Software from both a non-programming and a programming point of view. There are videos that illustrate usage of the supplied APT utilities that allow immediate control of the APT controllers out of the box. There are also a number of videos that explain the basics of programming custom software applications using Visual Basic, LabView and Visual C++. Watch the videos now to see what we mean.
To further assist programmers, a guide to programming the APT software in LabView is also available.
Piezo Driver Bandwidth Tutorial
Knowing the rate at which a piezo is capable of changing lengths is essential in many high-speed applications. The bandwidth of a piezo controller and stack can be estimated if the following is known:
The maximum amount of current the controllers can produce. This is 0.5 A for our BPC Series Piezo Controllers, which is the driver used in the examples below.
The load capacitance of the piezo. The higher the capacitance, the slower the system.
The desired signal amplitude (V), which determines the length that the piezo extends.
The absolute maximum bandwidth of the driver, which is independent of the load being driven.
To drive the output capacitor, current is needed to charge it and to discharge it. The change in charge, dV/dt, is called the slew rate. The larger the capacitance, the more current needed:
For example, if a 100 µm stack with a capacitance of 20 µF is being driven by a BPC Series piezo controller with a maximum current of 0.5 A, the slew rate is given by

Hence, for an instantaneous voltage change from 0 V to 75 V, it would take 3 ms for the output voltage to reach 75 V.
Note: For these calculations, it is assumed that the absolute maximum bandwidth of the driver is much higher than the bandwidths calculated, and thus, driver bandwidth is not a limiting factor. Also please note that these calculations only apply for open-loop systems. In closed-loop mode, the slow response of the feedback loop puts another limit on the bandwidth.
Sinusoidal Signal
The bandwidth of the system usually refers to the system's response to a sinusoidal signal of a given amplitude. For a piezo element driven by a sinusoidal signal of peak amplitude A, peak-to-peak voltage Vpp, and frequency f, we have:

A diagram of voltage as a function of time is shown to the right. The maximum slew rate, or voltage change, is reached at t = 2nπ, (n=0, 1, 2,...) at point a in the diagram to the right:

From the first equation, above:

Thus,


For the example above, the maximum full-range (75 V) bandwidth would be

.
For a smaller piezo stack with 10 times lower capacitance, the results would be 10 times better, or about 1060 Hz. Or, if the peak-to-peak signal is reduced to 7.5 V (10% max amplitude) with the 100 µm stack, again, the result would be 10 times better at about 1060 Hz.
Triangle Wave Signal
For a piezo actuator driven by a triangle wave of max voltage Vpeak and minimum voltage of 0, the slew rate is equal to the slope:
.
Or, since f = 1/T:

Square Wave Signal
For a piezo actuator driven by a square wave of maximum voltage Vpeak and minimum voltage 0, the slew rate limits the minimum rise and fall times. In this case, the slew rate is equal to the slope while the signal is rising or falling. If tr is the minimum rise time, then
or
.
For additional information about piezo theory and operation, see the Piezoelectric Tutorials page.