Optical Shutters
Ø1/2" and Ø1" Beam Shutters
Two Controller Options Available
Interlock Mode Incorporated into Control Logic
SH1
Ø1" Beam Shutter,
10 ms (Typ.) Shutter Close Time
SC10
Benchtop Shutter Controller
KSC101
K-Cube Compact Shutter Controller
(Compatible with the SH05R(/M) Optical Beam Shutter)
SH05R
Ø1/2" Beam Shutter,
8.0 ms (Typ.) Shutter Close Time

Please Wait
Features
Ø1/2" and Ø1" Beam Shutters

Typical Shutter Close Times:

SH05R(/M) with KSC101 Controller: 8.0 ms (90% to 10% Exposure)

SH1(/M) with SC10 Controller: 10 ms (80% to 20% Exposure)

Passive Closure Mechanism Ideal for Laser Safety Applications
8-32 (M4) Taps for Ø1/2" Post Mounting
SC10 Benchtop Controller and KSC101 Compact Controller (for SH05R(/M) Only) Available Separately Below
Thorlabs' Optical Shutters utilize a rotary, electro-mechanical actuator to provide millisecond shutter operation. During operation, these shutters remain in a closed position and then open when a pulse control signal is applied by an external controller. As long as the control voltage to the optical shutter remains high, the shutter stays open, but as soon as the voltage goes low, the shutter closes, providing inherent "fail-safe" operation. The frequency at which the device is opened and closed can be controlled. An optical sensor, which detects the shutter blade position in the housing, provides information that confirms the state of the optical shutter position. This makes it ideal in applications where a laser safety lockout is required.
In order to ensure that your optical shutter has a long lifetime, the aperture should not be located near the focus of a laser beam. Please note that the solenoid's performance is not guaranteed if the case temperature exceeds 50 °C. Significant heat buildup will occur if the aperture is closed for a long time while a high-power laser is incident on the shutter.
Controller Options
Thorlabs offers two controllers for use with our optical shutters: Item #s SC10 and KSC101. The SC10 controller can be used with both the Ø1/2" and Ø1" shutters below, while the KSC101 controller is only compatible with the Ø1/2" shutter. For information on the control requirements, please see the Specs tab. Both controllers include an "interlock mode" that is incorporated into the controller's logic; a physical key lock; and manual, triggered, or sofwtare controlled operation modes. The SC10 benchtop controller has an RS-232 computer connection that allows the controller to be operated using the included standalone software GUI. The KSC101 controller is a compact K-Cube™ controller with a USB 3.0 (2.0 Compliant) computer connection that allows the controller to be controlled using Thorlabs' Kinesis® or legacy APT™ software packages. See the Specs tab for a comparison table of the two controller options.

A 10-foot-long cable with 6-way HRS connector is included for connecting the shutter to either the SC10 or KSC101 Shutter Controller. A replacement cable can also be purchased below.
Controller Specifications
Item #
SC10
KSC101
Maximum Exposure Ratea
25 Hz
20 Hz
Minimum Exposure Timeb
10 ms
15 ms
Typical Transfer Time
1 ms
1.5 ms
Accuracy
0.2 ms
0.3 ms (at 15 ms Exposure)
On/Off Timesb,c
1 ms to 999.99 s
10 ms to 1000 s
Maximum Steady State Power
5 W
3.5 W
Hold Voltage Range
9 to 11.8 V
6.5 to 7.5 Avg. Volts PWM
Trigger Input/Output
TTL
TTL
Voltage Output
24 V Pulse (10 V Hold)
15 V Max (7 V Avg. PWM Hold)
Output Enable
Key Switch with Interlock Connector
Key Switch and Interlock Jack Plug
Operating Modes
Manual
User Controlled On/Off
Single
Trigger Controlled Single On/Off Cycles
DSP Controlled Single On/Cycles
Auto
Trigger Controlled Multiple On/Off Cycles
DSP Controlled Multiple On/Off Cycles
X-Gate (Triggered)
Shutter Controlled by BNC Input Trigger
Externally Triggered On/Off
Trig IN (Trig 1d)
BNC, TTL, 2.2 - 5 V
SMA, TTL, Type 5 V
Trig OUT (Trig 2d)
BNC, TTL, 2.2 - 5 V
SMA, TTL, Type 5 V
Output (6 Way Hirose)
Solenoid Drive
24 V Pulse (10 V Hold)
15 V Regulated DC
Position Feedback Sensor
-
Photodiode
Input Power Requirements
Voltage
100 - 240 VAC
U.S. Power Cord Included
15 V Regulated DC
Current
-
1 A Peak, 300 mA Steady State
General
Instrument Weight
5 lbs (2 kg)
160 g (5.5 oz)
Housing Dimensions
(W x D x H)
11.5" x 5.3" x 3.0"
(292 mm x 135 mm x 76 mm)
60.0 x 60.0 x 49.2 mm
(2.36 " x 2.36 " x 1.94")e
Highest frequency that the controller can perform an on/off sequence.
If the on/off time is set to a value lower than the minimum exposure time of the unit, the shutter may not open or close fully.
Amount of time that the shutter will remain open or closed. This is set in the setting panel and is valid when operating in auto mode.
As labeled on the KSC101, Trig 1 is defaulted to Trig IN, while Trig 2 is defaulted to Trig OUT.
Height Includes Top Panel Controls
Beam Shutter Specifications
Item #
SH05R(/M)
SH1(/M)
Aperture
Ø1/2" (12.7 mm)
Ø1.0" (25.4 mm)
Blade Material
6061-T6 Aluminum
Blade Thickness
0.063" (1.6 mm)
0.06" (1.6 mm)
Solenoid Coil Resistance

28 Ω

31.84 Ω

Initial State
Closed
Operation
Actuation Pulse
8 V to 50 V
(Time Dependent)
10 V to 75 V
(Time Dependent)
Holding Voltage

8 V to 12 V

8 V to 15 V

Maximum Recommended
Applied Solenoid Voltagea
<12 VDC (Holding)


<50 VDC (Pulse)

15 VDC (Holding)
75 VDC (Pulse)
Maximum Pulse Rate
10 Hz Steady,
25 Hz Burst
12.5 Hz Steady,
16.6 Hz Burst
Duty Cycleb
Optimum @ 10 Hz = 40%
Optimum @ 8 Hz = 50%
Lifetime
1,000,000 Cycles (Typical)
Max Solenoid Power (20°C)
Steady State

4 W @ Continuous

9 W @ Continuous

50% Duty Cycle

8 W @ 100 s

18 W @ 100 s

25% Duty Cycle

16 W @ 36 s

36 W @ 36 s

5% Duty Cycle

80 W @ 2.5 s

180 W @ 2.8 s
To protect the unit from heat, Thorlabs recommends applying an actuation pulse followed by a holding voltage. To keep the unit on for a long period of time, the holding voltage must be ≤12 V. Applying an actuation voltage that is below 8 V may open the shutter; however other timing specs cannot be guaranteed.
Measured when the shutter was driven with the SC10 Controller.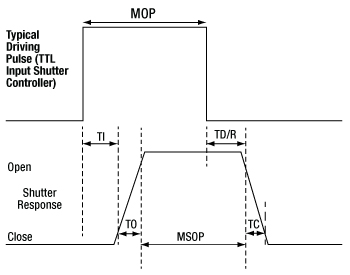 Click to Enlarge

Shutter Response Diagram
Timing Specifications
Controller
Eventa
SH05R(/M)b
SH1(/M)
SC10
TI
8.0 ms
10 ms
TO
4.3 ms
10 ms
TD/R
11.0 ms
20 ms
TC
6.5 ms
10 ms
MOP
10 ms
40 ms
MSOP
14 ms
40 ms
KSC101
TI
11 ms
N/Ac
TO
5.5 ms
TD/R
26 ms
TC
8.0 ms
MOP
19 ms
MSOP
24 ms
See table to the right for definitions.
These are typical values.
The SH1(/M) is not compatible with the KSC101.
Timing Diagram Definitions
Event
SH05R(/M)
SH1(/M)
TI
Time Initialize: Time from Initialization pulse, to energizing of coil, to the initial movement of the shutter.
Transfer Initialize: the time delay between the application of the energizing voltage and the initial movement of the shutter.
TO
Time Open (Rise): Time of shutter blade movement to open from 10% exposurea to 90% exposure.
Transfer Open: the time for the shutter to move from 20% exposurea to 80% exposure.
TD/R
Time Delay Release: Time delay of release of the hold voltage or pulse at the moment the shutter blade starts to close.
Transfer Dwell/Release: the delay between the removal of the energizing voltage and the initial closing movement of the shutter.
TC
Time Close (Fall): Time of shutter blade movement to close from an 90% exposurea to 10% exposure.
Transfer Close: the time for the shutter to move from 80% exposurea to 20% exposure.
MOP
Minimum Open Pulse: Minimum pulse width as driven with the SC10 or KSC101 controller.
Minimum Open Pulse: the minimum pulse width supplied by the SC10 controller.
MSOP
Minimum Shutter Open Pulse: Minimum shutter open time (pulse) using the MOP time from the SC10 or KSC101 controller.
Minimum Shutter Open Time: the minimum time the shutter will remain open when using the minimum open pulse (MOP) from the SC10 controller.
Exposure refers to the area of the shutter that is open.
SH05R(/M) Interface Connector
HR10-7R-6S
Pin
Description
1
Vsupply: 3.3 - 5 V, 20 mA
2
Solenoid
3
Solenoid
4
GND
5
GND
6
Sense Return
Low: 0.11 V
High: Vsupply - 0.11 V
SH1(/M) Interface Connector
HR10-7R-6S
| Pin | Description |
| --- | --- |
| 1 | Monitor Opto Anode +V |
| 2 | Solenoid +V |
| 3 | Solenoid GND |
| 4 | Monitor Opto Cathode GND |
| 5 | Monitor Opto Emitter GND |
| 6 | Monitor Opto Collector +V |
SC10 Pin Diagrams
Interface Connector
HR10-7R-6S

| Pin | Description |
| --- | --- |
| 1 | To Opto Anode (12 V limited to 20mA) |
| 2 | To Shutter Coil - 24 V Pulse - 10 V Steady State (0.4 A max) |
| 3 | To Shutter Coil - GND (on) - Open Ckt (off) |
| 4 | To Opto Cathode - GND |
| 5 | To Opto Emitter - GND |
| 6 | To Opto Collector (2.5V) |
Computer Connection
D-type Female

| Pin | Description |
| --- | --- |
| 1 | NC |
| 2 | TxD (from SC10) |
| 3 | RxD (to SC10) |
| 4 | NC |
| 5 | Signal Ground |
| 6 | NC |
| 7 | NC |
| 8 | NC |
| 9 | NC |
Trigger In*
BNC Female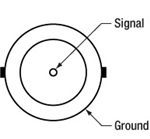 *10K Input Impedance, 2.2 V Min, 5 V Max
Trigger Out**
BNC Female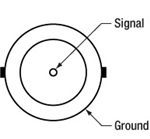 **2.2 V Min (500 Ohm Load), 5 V Max (Open Circuit)
KSC101 Pin Diagrams
Solenoid Connection
Hirose Female
| Pin | Description |
| --- | --- |
| 1 | Opto Anode (12 V limited to 20 mA) |
| 2 | Shutter Coil 15 V Pulse, 10 V steady state (0.4 A max) |
| 3 | Shutter Coil Ground (When ON) Open CCT (When OFF) |
| 4 | Opto Cathode Ground |
| 5 | Opto Emitter Ground |
| 6 | Opto Collector (2.5 V) |
Computer Connection*

TRIG 1
(Defaulted to Trig In)
SMA Female

TRIG 2
(Defaulted to Trig Out)
SMA Female

+5 V TTL

+5 V TTL

These connectors provide a 5 V logic level input and output that can be configured to support triggering into and out of external devices. Each port can be independently configured to control the logic level or to set the trigger as an input or output.


Interlock
3.5 mm Jack Plug

A short circuit must be applied across the terminals of this connector before the unit can be enabled. An INTERLOCK jack plug is supplied with the unit. Alternatively, the contact can be controlled externally with a custom 3.5 mm jack plug connected to a switch, which must be closed before the unit can operate.
Software for the SC10 Shutter Controller
Software
Version 1.3.0 (July 31, 2023)
Standard full software application packages and graphical user interfaces.

OR
Firmware Update
Version 1.07 (July 25, 2013)
The firmware of the SC10 has been updated to address compatibility issues with our SH1 Shutter. For units purchased prior to October 2012, a firmware update is available to ensure compatibility with both SH1(/M) and SH05R(/M) shutters. The ability to query the status of the interlock on the device has been added. The latest update also addresses software communication bugs present in the former version.
The SC10 features a serial port for connection to a PC. In order to install the firmware update, a computer with a serial port is required. Alternately, a USB to serial adapter can be used.
Note:
The Kinesis
®
and APT™ software packages can be used to control the KSC101 K-Cube Compact Shutter Controller; they are not compatible with the SC10 Benchtop Shutter Controller.
Thorlabs offers two platforms to drive our wide range of motion controllers: our Kinesis® software package or the legacy APT™ (Advanced Positioning Technology) software package. Either package can be used to control devices in the Kinesis family, which covers a wide range of motion controllers ranging from small, low-powered, single-channel drivers (such as the K-Cubes™ and T-Cubes™) to high-power, multi-channel, modular 19" rack nanopositioning systems (the APT Rack System).
The Kinesis Software features .NET controls which can be used by 3rd party developers working in the latest C#, Visual Basic, LabVIEW™, or any .NET compatible languages to create custom applications. Low-level DLL libraries are included for applications not expected to use the .NET framework. A Central Sequence Manager supports integration and synchronization of all Thorlabs motion control hardware.

Kinesis GUI Screen
APT GUI Screen
Our legacy APT System Software platform offers ActiveX-based controls which can be used by 3rd party developers working on C#, Visual Basic, LabVIEW™, or any Active-X compatible languages to create custom applications and includes a simulator mode to assist in developing custom applications without requiring hardware.
By providing these common software platforms, Thorlabs has ensured that users can easily mix and match any of the Kinesis and APT controllers in a single application, while only having to learn a single set of software tools. In this way, it is perfectly feasible to combine any of the controllers from single-axis to multi-axis systems and control all from a single, PC-based unified software interface.
The software packages allow two methods of usage: graphical user interface (GUI) utilities for direct interaction with and control of the controllers 'out of the box', and a set of programming interfaces that allow custom-integrated positioning and alignment solutions to be easily programmed in the development language of choice.
A range of video tutorials is available to help explain our APT system software. These tutorials provide an overview of the software and the APT Config utility. Additionally, a tutorial video is available to explain how to select simulator mode within the software, which allows the user to experiment with the software without a controller connected. Please select the APT Tutorials tab above to view these videos.
Software
Kinesis Version 1.14.44
The Kinesis Software Package, which includes a GUI for control of Thorlabs' Kinesis and APT™ system controllers.
Also Available:

Laser Safety and Classification
Safe practices and proper usage of safety equipment should be taken into consideration when operating lasers. The eye is susceptible to injury, even from very low levels of laser light. Thorlabs offers a range of laser safety accessories that can be used to reduce the risk of accidents or injuries. Laser emission in the visible and near infrared spectral ranges has the greatest potential for retinal injury, as the cornea and lens are transparent to those wavelengths, and the lens can focus the laser energy onto the retina.
Safe Practices and Light Safety Accessories
Laser safety eyewear must be worn whenever working with Class 3 or 4 lasers.
Regardless of laser class, Thorlabs recommends the use of laser safety eyewear whenever working with laser beams with non-negligible powers, since metallic tools such as screwdrivers can accidentally redirect a beam.
Laser goggles designed for specific wavelengths should be clearly available near laser setups to protect the wearer from unintentional laser reflections.
Goggles are marked with the wavelength range over which protection is afforded and the minimum optical density within that range.
Laser Safety Curtains and Laser Safety Fabric shield other parts of the lab from high energy lasers.
Blackout Materials can prevent direct or reflected light from leaving the experimental setup area.
Thorlabs' Enclosure Systems can be used to contain optical setups to isolate or minimize laser hazards.
A fiber-pigtailed laser should always be turned off before connecting it to or disconnecting it from another fiber, especially when the laser is at power levels above 10 mW.
All beams should be terminated at the edge of the table, and laboratory doors should be closed whenever a laser is in use.
Do not place laser beams at eye level.
Carry out experiments on an optical table such that all laser beams travel horizontally.
Remove unnecessary reflective items such as reflective jewelry (e.g., rings, watches, etc.) while working near the beam path.
Be aware that lenses and other optical devices may reflect a portion of the incident beam from the front or rear surface.
Operate a laser at the minimum power necessary for any operation.
If possible, reduce the output power of a laser during alignment procedures.
Use beam shutters and filters to reduce the beam power.
Post appropriate warning signs or labels near laser setups or rooms.
Use a laser sign with a lightbox if operating Class 3R or 4 lasers (i.e., lasers requiring the use of a safety interlock).
Do not use Laser Viewing Cards in place of a proper Beam Trap.
Laser Classification
Lasers are categorized into different classes according to their ability to cause eye and other damage. The International Electrotechnical Commission (IEC) is a global organization that prepares and publishes international standards for all electrical, electronic, and related technologies. The IEC document 60825-1 outlines the safety of laser products. A description of each class of laser is given below:
Class
Description
Warning Label
1
This class of laser is safe under all conditions of normal use, including use with optical instruments for intrabeam viewing. Lasers in this class do not emit radiation at levels that may cause injury during normal operation, and therefore the maximum permissible exposure (MPE) cannot be exceeded. Class 1 lasers can also include enclosed, high-power lasers where exposure to the radiation is not possible without opening or shutting down the laser.
1M
Class 1M lasers are safe except when used in conjunction with optical components such as telescopes and microscopes. Lasers belonging to this class emit large-diameter or divergent beams, and the MPE cannot normally be exceeded unless focusing or imaging optics are used to narrow the beam. However, if the beam is refocused, the hazard may be increased and the class may be changed accordingly.
2
Class 2 lasers, which are limited to 1 mW of visible continuous-wave radiation, are safe because the blink reflex will limit the exposure in the eye to 0.25 seconds. This category only applies to visible radiation (400 - 700 nm).
2M
Because of the blink reflex, this class of laser is classified as safe as long as the beam is not viewed through optical instruments. This laser class also applies to larger-diameter or diverging laser beams.
3R
Class 3R lasers produce visible and invisible light that is hazardous under direct and specular-reflection viewing conditions. Eye injuries may occur if you directly view the beam, especially when using optical instruments. Lasers in this class are considered safe as long as they are handled with restricted beam viewing. The MPE can be exceeded with this class of laser; however, this presents a low risk level to injury. Visible, continuous-wave lasers in this class are limited to 5 mW of output power.
3B
Class 3B lasers are hazardous to the eye if exposed directly. Diffuse reflections are usually not harmful, but may be when using higher-power Class 3B lasers. Safe handling of devices in this class includes wearing protective eyewear where direct viewing of the laser beam may occur. Lasers of this class must be equipped with a key switch and a safety interlock; moreover, laser safety signs should be used, such that the laser cannot be used without the safety light turning on. Laser products with power output near the upper range of Class 3B may also cause skin burns.
4
This class of laser may cause damage to the skin, and also to the eye, even from the viewing of diffuse reflections. These hazards may also apply to indirect or non-specular reflections of the beam, even from apparently matte surfaces. Great care must be taken when handling these lasers. They also represent a fire risk, because they may ignite combustible material. Class 4 lasers must be equipped with a key switch and a safety interlock.
All class 2 lasers (and higher) must display, in addition to the corresponding sign above, this triangular warning sign.