Ultrafast Photoreceivers
OEM Module
Item #a
Max
Bandwidth
Fiber
Wavelength
Range
Instrument
Item #
RX25DF
25 GHz
Multimode
700 - 870 nm
RXM25DF
RX25AF
Single
Mode
1250 - 1650 nm
RXM25AF
RX40AF
40 GHz
RXM40AF
Features
Smooth Frequency Response up to 25 GHz or 40 GHz
700 - 870 nm or 1250 - 1650 nm Wavelength Range
Differential, AC-Coupled, Current Mode Logic (CML) Output via Dual GPPO® Connectors
Manual or Automatic Gain Control
Hermetically Sealed GaAs or InGaAs Photoreceiver Modules
SM or MM Pigtailed Fiber Options

OM4 Multimode Fiber: RX25DF
SMF-28 Single Mode Fiber: RX25AF and RX40AF

Compact Package and Easy Integration Ideal for OEM Applications
Available Packaged in Ultrafast Receiver Instruments
Discounts for High-Volume Purchases Available; Contact OEM Sales with Inquiries
The RX series of ultrafast photoreceiver modules include single-mode and multimode fiber-coupled photoreceivers with wide wavelength ranges. Each amplified photoreceiver has adjustable gain, adjustable peaking, and flat group delay (and/or frequency response), which make them excellent for a variety of applications. Each fiber-coupled detector is housed in a hermetically sealed, butterfly package that enables it to be easily used for OEM applications (see the Operation tab for details).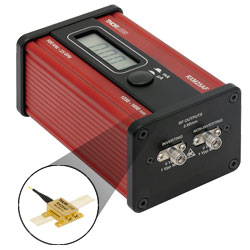 Click to Enlarge
The RX25AF Ultrafast Photoreceiver Module is used in the RXM25AF
Ultrafast Photoreceiver Instrument
.
Our single mode photoreceivers utilize a Ø9 µm core SMF-28 single mode fiber, while our multimode receiver uses a Ø50 µm core OM4 multimode fiber. Optical input can be coupled from an FC/PC-terminated fiber via the FC bulkhead connector. Our multimode photoreceivers are designed to accept input from multimode or single-mode optical fiber connectors, making them versatile measurement instruments for research and commercial applications. We offer single mode hybrid patch cables to facilitate connecting optical cables with different connector types and GRIN multimode patch cables for reduced modal dispersion. The RF signal outputs via AC-coupled, current mode logic (CML) GPPO connectors, which can provide high-speed data rates and require no external terminating resistors. Custom units with FC/APC connectors also available upon request; please contact Tech Support with inquiries.
Webpage Features
Clicking this icon below opens a window that contains full specifications and performance graphs for each item.
Clicking this icon below allows you to download our standard support documentation for each item.
The data below is typical. These photoreceiver modules feature adjustable peaking which is set through the peaking low (PKL) and peaking high (PKH) pins. The adjustable gain is set through the gain control (GC) pin. Please refer to the info icons (
) or support docs (

) below for more details. The dashed line in the graphs below indicates the -3 dB bandwidth for the module.
RX25DF Multimode, 25 GHz, Ultrafast Receiver Modules
RX25AF Single Mode, 25 GHz, Ultrafast Receiver Modules
RX40AF Single Mode, 40 GHz, Ultrafast Receiver Module
Operation Guide
Please reference the left drawing below for connection options. Unpack the unit carefully making sure to take ESD precautions. For detailed operation procedures, refer to the individual product spec sheet by clicking the Support Docs icon (

) for the specific item below. The right diagram below depicts the internal elements of the photoreceiver.
Mount the unit using the M2.5 x 0.45 mounting holes. It is possible to use M2 screws for mounting if bypassing the M2.5 threads in the feet is desired.
Attach the GPPO® RF outputs of the unit to the measurement instrument using suitable cables or adapters. The measurement instrument must have a 50 Ω input and adequate bandwidth to resolve the high-speed signal from the detector. If only one output is used the other output must be terminated with a high quality 50 Ω termination.
See datasheet for the pin out and detailed instructions to bias the device. It is critical that the power up and power down sequence is performed correctly:

Power-Up Sequence: Photodiode First, Then Amplifier, Then Control Pins
Power-Down Sequence: Control Pins First, Then Amplifier, Then Photodiode

Couple the optical input signal to the photoreceiver via the FC/PC connector. Ensure the average input optical power does not exceed 10 dBm.
The DC photocurrent can be monitored using a resistor in series with the bias pin and a voltmeter across the resistor. Make sure that the voltage drop across the resistor does not reduce the bias on the module below its operating voltage.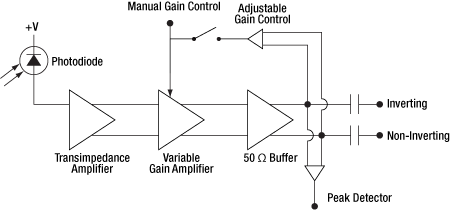 Click to Enlarge
Internal Block Diagram Showing the Photodiode, Amplifier Stages,
Control Pins, and Differential RF Outputs

ESD Sensitive Components: Please note that the components inside these module are ESD sensitive. Take all appropriate precautions to discharge personnel and equipment before making any electrical connections to the unit. This especially applies to coaxial connecting cables that can accumulate capacitive charge.

Click to Enlarge
Device Schematic

Janis Valdmanis, Ph.D. Optics
Ultrafast Optoelectronics
General Manager
Custom and OEM Options
When your application requirements are not met by our range of catalog products or their variety of user-configurable features, please contact me to discuss how we may serve your custom or OEM needs.
Request a Demo Unit
Explore the benefits of using a Thorlabs high-speed instrument in your setup and under your test conditions with a demo unit. Contact me for details.

Click to Enlarge
The MX40B Digital Reference Transmitter
Design, Manufacturing, and Testing Capabilities
Thorlabs' Ultrafast Optoelectronics Team designs, develops, and manufactures high-speed components and instrumentation for a variety of photonics applications having frequency responses up to 70 GHz. Our extensive experience in high-speed photonics is supported by core expertise in RF/microwave design, optics, fiber optics, optomechanical design, and mixed-signal electronics. As a division of Thorlabs, a company with deep vertical integration and a portfolio of over 20,000 products, we are able to provide and support a wide selection of equipment and continually expand our offerings.
Our catalog and custom products include a range of integrated fiber-optic transmitters, modulator drivers and controllers, detectors, receivers, pulsed lasers, variable optical attenuators, and a variety of accessories. Beyond these products, we welcome opportunities to design and produce custom and OEM products that fall within our range of capabilities and expertise. Some of our key capabilities are:
Detector and Receiver Design, to 70 GHz
Fiber-Optic Transmitter Design, to 70 GHz
RF & Microwave Design and Simulation
Design of Fiber-Optic and Photonics Sub-Assemblies
High-Speed Testing, to 70 GHz
Micro-Assembly and Wire Bonding
Hermetic Sealing of Microwave Modules
Fiber Splicing of Assemblies
Custom Laser Engraving
Qualification Testing
Overview of Custom and Catalog Products
Our catalog product line includes a range of integrated fiber-optic transmitters, modulator drivers and controllers, detectors, pulsed lasers, and accessories. In addition to these, we offer related items, such as receivers and customized catalog products. The following sections give an overview of our spectrum of custom and catalog products, from fully integrated instruments to component-level modules.
Fiber-Optic Instruments
To meet a range of requirements, our fiber-optic instruments span a variety integration levels. Each complete transmitter includes a tunable laser, a modulator with driver amplifier and bias controller, full control of optical output power, and an intuitive touchscreen interface. The tunable lasers, modulator drivers, and modulator bias controllers are also available separately. These instruments have full remote control capability and can be addressed using serial commands sent from a PC.
Fiber-Optic Transmitters, to 70 GHz
Linear and Digital Transmitters
Electrical-to-Optical Converters, to 70 GHz
Modulator Drivers
Modulator Bias Controllers
C- and L-Band Tunable Lasers
Customization options include internal laser sources, operating wavelength ranges, optical fiber types, and amplifier types.
Fiber-Optic Components
Our component-level, custom and catalog fiber-optic products take advantage of our module design and hermetic sealing capability. Products include detectors with frequency responses up to 50 GHz, and we also specialize in developing fiber-optic receivers, operating up to and beyond 40 GHz, for instrumentation markets. Closely related products include our amplifier modules, which we offer upon request, variable optical attenuators, microwave cables, and cable accessories.
Hermetically-Sealed Detectors, to 50 GHz
Fiber-Optic Receivers, to 40 GHz
Amplifier Modules
Electronic Variable Optical Attenuators
Microwave Cables and Accessories
Customization options include single mode and multimode optical fiber options, where applicable, and detectors optimized for time or frequency domain operation.
Free-Space Instruments
Our free-space instruments include detectors with frequency responses around 1 GHz and pulsed lasers. Our pulsed lasers generate variable-width, nanosecond-duration pulses, and a range of models with different wavelengths and optical output powers are offered. User-adjustable repetition rates and trigger in/out signals provide additional flexibility, and electronic delay-line products enable experimental synchronization of multiple lasers. We can also adapt our pulsed laser catalog offerings to provide gain-switching capability for the generation of pulses in the 100 ps range.
Pulsed Lasers with Fixed 10 ns Pulse Duration
Pulsed Lasers with Variable Pulse Width and Repetition Rates
Electronic Delay Units to Synchronize NPL Series Pulsed Lasers
Amplified Detectors
Customization options for the pulsed lasers include emission wavelength, optical output powers, and sub-nanosecond pulse widths.