Antistatic/ESD Guard Products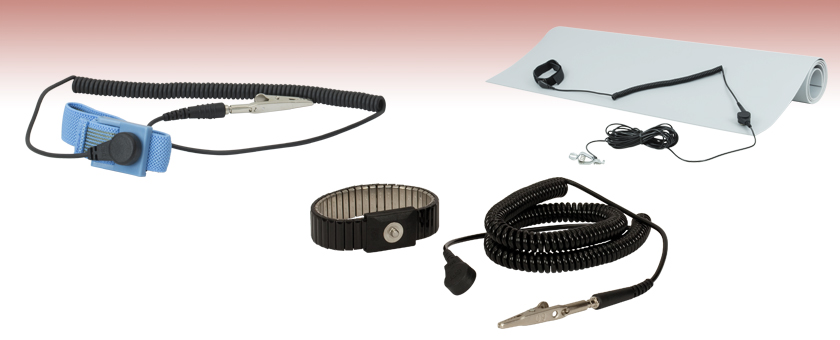 2′ x 4′ ESD Table Mat
Two ESD Wrist Strap Options
TM2448
Shown with Included Grounding Wire and ESD Wrist Strap
WS02
WS01

Please Wait
Thorlabs' antistatic/ESD products provide protection while handling laser diodes, optical detectors, and other static-sensitive devices. We offer an ESD Table Mat, a protective surface against electrostatic dischage, and two ESD Wrist Straps to be used in conjunction with the ESD table mat.
Heavy-Duty 2' x 4' Table Mat
Static Charge Decay: <2 s
Includes Grounding Wire and Wrist Strap
Thorlabs' ESD Static Control 2' x 4' Table Mat provides a static dissipative surface to protect sensitive electronic components from damaging electrostatic discharge. This heavy-duty mat has a static charge decay time of <2 seconds, ensuring protection under extreme conditions, and includes a grounding wire and grounding wrist strap. The grounding wire snaps onto the ESD mat, and can be grounded using an included alligator clip. The grounding wrist strap can either interface with the grounding wire via a banana connector or be grounded using an included alligator clip.
Thorlabs offers other grounding wrist straps, sold below, compatible with the ESD table mat.
WS01: Expandable Metal Strap with 12' Grounding Wire
WS02: Adjustable Fabric Strap with 6' Grounding Wire
Removes Static Charges When Handling Static-Sensitive Devices
Thorlabs' Grounding Wrist Straps safely remove static charges from individuals who handle laser diodes, amplified photodetectors, and other static-sensitive devices. The ground wire has a built-in 1 MΩ resistor for user safety, and the strap works with our ESD Table Mat (sold above) to protect against electrostatic discharge. Each wrist strap features a banana connector that interfaces with an included alligator clip. The WS01 premium expandable metal band is flexible, durable, and comfortable, allowing for extended use. It features a 12' long grounding cord, and has a relaxed (i.e., not stretched) circumference of 6". The WS02 fabric strap includes a 6' coiled cord. Please note that the color of the cord and wrist strap may vary from lot to lot.