Ø20 mm Petri Dish
Fused Silica Petri Dish with 1 mL Sample Capacity
Low Background Signal when Used in Raman Applications
Ø20 mm x 6 mm Outer Dimensions
DSH20F
Application Idea
The DSH20F Petri Dish can be used with the
RASP2 Portable Raman Spectrometer.
The dish is sold individually or as part of the
RASPA1 Sample Accessory Kit.

Please Wait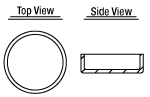 Click for Details
Mechanical Drawings
The DSH20F Ø20 mm, 6 mm Thick Petri Dish holds up to 1 mL of a sample. Its fused silica composition makes it suitable for Raman spectroscopy applications, where the low background signal of fused silica improves measurement sensitivity. The broad UV to NIR transmission window also makes the petri dish suitable for a range of other microscopy and spectroscopy applications.
This petri dish is included in our RASPA1 Sample Accessory Kit for RASP Series Spectrometers, and can be purchased as a replacement part for the RAPSA1 kit or on its own for use in custom Raman setups.
Posted Comments:
No Comments Posted