Cage System Covers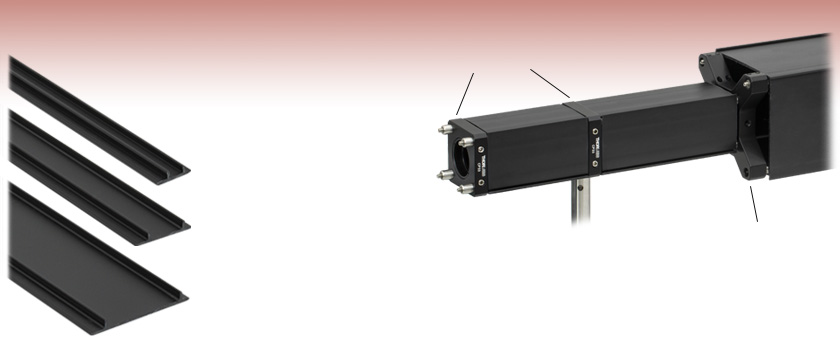 Enclose a Beam Path Within a 16 mm, 30 mm, or 60 mm Cage System
Sold in Packs of 4, Each 24" Long
C16L24
For 16 mm Cage
C30L24
For 30 mm Cage
C60L24
For 60 mm Cage
Application Idea
The C30L24 and C60L24 covers shown enclosing a cage system.
CP33 Cage Plates
LCP02
30 mm to 60 mm Cage Plate Adapter

Please Wait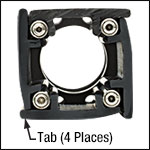 Click for Details

Every cover has a tab that creates an extra light seal layer and helps in installing and removing in a cage system.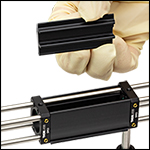 Click to Enlarge

C16L24 cage system covers are shown enclosing a 16 mm cage system. Each cover features tracks that allow it to snap onto the cage rods.
Features
Block Stray or Unwanted Light
Keep Beam Path Clean of Dust and Other Contaminants
Easy to Cut to Desired Length; See the Cutting Tutorial Tab
Sold in Packs of 4
Thorlabs' Cage System Covers are designed to enclose 16 mm, 30 mm, or 60 mm cage systems. They can protect users from stray beams or wavelengths that are invisible to the naked eye, as well as prevent ambient light, dust, and other contaminants from accessing the beam path. Made from high impact polystyrene plastic, the cage covers are sold in 24" lengths, which can be easily cut to the desired length by the user; see the Cutting Tutorial tab for details.
Each cover features a tab on one side that provides an additional light seal and an area to grip during installation and removal. The covers snap onto the cage rods, as shown in the images to the right. To remove, simply pull the tab to release the cover.
Please note that these cage system covers are not light tight and should not be used in high-power applications.
To Cut the Cage System Covers: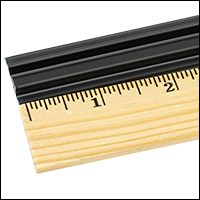 Click to Enlarge
Step 1:
Measure the length required to cover the cage system setup.

Click to Enlarge
Step 2:
Using a utility knife or saw, score the legs of the cover at the desired length.

Click to Enlarge
Step 3:
Bend the cover until it snaps along the scored cuts.