Purge Connector for SM1 Lens Tubes
Connects Purge Gas to Optical Beam Path Enclosed by SM1 Lens Tubes
Hose Barb Compatible with 3/16" Internal Diameter Tubing
Compatible with 30 mm Cage Systems
CPPC
Purge Connector
for SM1 Lens Tubes
Application Idea
Two CPPC Purge Connectors can be used
for Intake and Exhaust in a Closed-Loop Configuration

Please Wait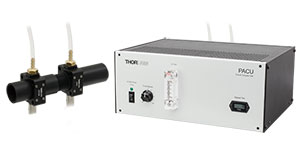 Click to Enlarge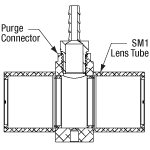 Click to Enlarge
Cross-Section View of CPPC Purge Connector with Two
SM1L10
Lens Tubes
Features
The CPPC Purge Connector for SM1 Lens Tubes makes enclosed SM1 lens tube systems compatible with our PACU Pure Air Filtration System via the hose barb. The barb is compatible with 3/16" internal diameter tubing, such as that included with the PACU system or the tubing sold below. The purge connector has SM1 (1.035"-40) internal thread to use with SM1 Lens Tubes or accessories. It also features four Ø6 mm bores for compatibility with our 30 mm cage system and is 0.75" (19 mm) thick. Each cage locking set screw has a 5/64" (2 mm) hex. The bottom and side of the cage plate also offer 8-32 (M4) mounting holes for post mounting.
We recommend using two or more CPPC Purge Connectors with our pure air filtration system, which has two connections: one for supply and one for return. The device incorporates dessicant and particulate filters in series and excels at providing an extremely clean, dry atmosphere for closed-loop experimental setups.
Note: The CPPC Purge Connector is strictly intended for purging or purifying the air in a lens-tube-enclosed beam path. Our lens tubes are not air tight and the SM1 thread is not suitable for pressurized or vacuum applications. Please do not apply sealant or tape to the thread.
Posted Comments:
No Comments Posted
Chemfluor® 367 Fluoropolymer Tubing for CPPC Lens Tube Purge Connector (Sold Above)
3/16" ID x 1/4" OD (4.8 mm ID x 6.4 mm OD) Tubing
Continuous Operation Temperature: -25 °F to 175 °F (-32 °C to 79 °C)
Available in 12' (3.66 m) and 24' (7.32 m) Lengths
This clear Chemfluor® 367 Fluoropolymer Tubing (12' of which is included with our PACU Pure Air Circulator Unit) can be used with our CPPC Purge Connector to supply air or inert gas (N2) to an enclosed SM1 Lens Tube system. This tubing meets FDA requirements, is resistant to abrasions and many commonly used chemicals, and has a specific gravity of 2.15. It is available in both 12' (PACU-TG) and 24' (PACU-TG24) lengths.