Optical Fiber Component Manufacturing

Please Wait
Thorlabs' Fiber Component Manufacturing Capabilities
Thorlabs manufactures a wide variety of specialty optical fiber, patch cables, bundles, tools for Optogenetics, and other components at our headquarters in Newton, NJ. Our state-of-the-art fiber manufacturing facility produces our extensive catalog offerings as well as custom and OEM requests. Our fiber draw towers produce silica and fluoride fiber, and our glass fabrication department manufactures fluoride glass preforms. For more information on the products designed and produced by our Fiber department, please click through the tabs above. Additional information on our fiber draw capabilities can be found here.

Click to Enlarge
Our in-house machine shop, ThorShop, allows engineers to create prototypes for testing new designs.
Designing Optical Fiber and Components
Key Capabilities
Experienced Design Engineers with Specialties in a Variety of Fields
Material Scientists Dedicated to Fluoride Glass Production, Research, and Development
Full Access to Fiber Draw Towers and ThorShop
Custom Design Capabilities for Unique Optical Fiber and Component Solutions
Our team of fiber design engineers combines their knowledge of optical fiber with experience in mechanical and optical design to produce innovative solutions for a variety of fiber optic applications. Our fluoride glass scientists design and manufacture preforms that we then draw into fluoride fiber. This broad knowledge base ensures the production of high-quality components to support our industry-leading portfolio of specialty optical fiber.
After a "raw idea" is introduced, our design engineering team collaborates with our manufacturing engineers on the design. The idea is fully developed and potential concerns are addressed prior to starting any design work. Once the design is finalized, engineers create a 3D model using SolidWorks for mechanical components or design and evaluate optics using Zemax. The team also has full access to our fiber draw towers and ThorShop, our onsite machine shop, which enhance our design capabilities. These steps ensure that new products are delivered to customers as quickly as possible.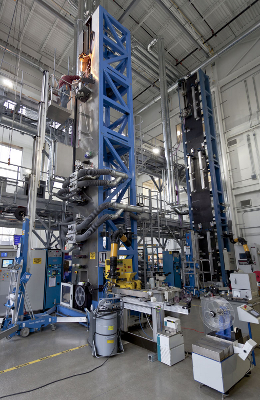 Click to Enlarge
Specialty Optical Fiber Manufacturing
Key Capabilities
Specialize in Silica and Fluoride Glasses (Other Materials Available Upon Request)
Transmission from the UV to the MIR: 200 nm - 5.5 µm
Numerical Apertures: 0.10 to 0.48
Fiber Core Sizes Range from 2 µm (Single Mode) to 1500 µm (Multimode)
Active Fluoride Fibers with a Variety of Core and Cladding Geometries and Dopants such as Erbium, Thulium, and Holmium
UV Coating Capabilities for Materials Including Acrylate and Optical Polymers
Extrusion of Tefzel and Nylon Buffer Materials
Flexible Manufacturing Setups and Schedules Allow for Prototyping as well as Volume Production
Tensile Strength, Prooftesting, Static Fatigue, and Dynamic Fatigue Testing for All Fiber Types
Attenuation, Spectral Attenuation, Bend Loss, and NA Testing in Our Metrology Lab
Vertically Integrated Cabling Operation Provides a Full-Service Solution
Thorlabs' ITAR-certified fiber draw facility, located at our headquarters in Newton, NJ, fabricates specialty optical fiber for a variety of applications. In addition to manufacturing our extensive catalog offerings, this facility supports the flexible tower configurations and draw schedules required for fabricating custom fibers. Our engineering team has experience with designing and fabricating fibers for academic, industrial, and government applications.
The fiber drawn here can be purchased bare, within connectorized patch cables, or incorporated into many products in our ever-growing line of photonics equipment. This fiber will be sold to laboratories all over the world and will be used for everything from optogenetics to telecommunication applications.
For more information about the draw process used at Thorlabs, please visit our Specialty Optical Fiber Manufacturing page.
Fiber Patch Cables and Bundles
Key Capabilities
Autopolishing Machines Provide a Reproducible High-Quality Polish Regardless of Connector Type
JDSU Vision Scope Used to QC All Cables to IEC-61300-3-35 Standards

400X for All Cables with Core Sizes ≤Ø200 µm
80X for All Cables with Core Sizes ≤Ø400 µm

Interferometer Validates Polishing Procedures and Confirms End-Face Geometry
Centroc Fiber Optic Tuner Measures the Centration of the Core in the Ferrule
Centroc and Interferometer Together Allow for Production of Master Cables
Optical Alignment of Polarization Maintaining (PM) Patch Cables within Their Operating Wavelength Ranges
Automated Cleaver for Cannula Production Ensures a Repeatable High-Quality Cleave
Centrifuge Removes Air Bubbles from Epoxy
Our 40-member team of engineers and technicians assemble and test all of the items in our Fiber portfolio. Our production and testing equipment is on a preventative maintenance schedule, which greatly lessens the chance of production disruptions. All items undergo both quality checks throughout the assembly process and a final inspection, reducing the number of items rejected after they are fully assembled by allowing any issues to be addressed quickly.
Fiber Couplers and Wavelength Division Multiplexers
Key Capabilities
Wideband and Narrowband Offerings
Custom Wavelength Ranges from 400 to 2300 nm
In-Process Performance Analysis
Laser Engraving Stations for Component Labeling
Product Data Sheets Included with Each Component
Polarization Maintaining Options
Connectors Exceed International Electrotechnical Commission Quality Standards
Our Montreal Facility manufactures many of our Fiber Couplers and Wavelength Division Multiplexers (WDMs) in 2x2, 1x2, and 1x4 configurations. While Thorlabs offers a variety of wavelengths and splitting ratios, our streamlined process has the flexibility to create custom parts on request. These custom components can be single mode or multimode with operating ranges between 400 to 2300 nm. Custom packaging and labeling is available. Components can also be created using double-clad fiber, allowing for multimode pump sources to amplify single mode signals, among other applications. All of our standard and custom products are serialized and include an individual product data sheets to confirm their performance. For these data sheets, we typically test our fused-fiber components at room temperature without connectors; however additional performance specifications can be recorded on request. The video to the right shows the steps our skilled fiber technicians take to create these products.
Fiber Components
Key Capabilities
Microscopes with Reticles to Measure Surface Quality
Beam Profiler for Alignment and to Test Beam Quality
Power Meters to Monitor Output Power and Ensure Stability Over Time
Optical Alignment of Polarizers and Fiber Isolators to their Operating Wavelength Ranges
Small Machine Shop within Manufacturing Cell for Added Custom Capabilities
Full Access to ThorShop (Thorlabs' Machine Shop)
Our team of assemblers constructs fiber mechanical components, such as our FiberBench line, and align all optics. Polarizers and fiber isolators are optically aligned to their design wavelength ranges. Items are inspected throughout the assembly process to ensure high-quality finished goods.
Custom and OEM Orders
Key Capabilities
Patch Cables

Largest Stocked Selection of Single Mode and Multimode Optical Fibers in the Photonics Industry
Silica and Fluoride Fiber Manufactured in Newton, NJ
Variety of Connector Styles Available
Multiple Tubing Sizes, Materials, and Colors
Anti-Reflective, Partially-Reflective, or Fully-Reflective Coatings Applied to the Connectors
Vacuum-Compatible Cables

Fiber Bundles

Round or Linear Fiber Orientations
Straight or Fan-out Geometries
Random or Mapped Fiber Configurations
Medical Grade Options Available with Stainless Steel Tubing and High Power Handling

Optogenetics Components

Cannulae with Custom Ferrules and Fibers
Light-Weight and Rotary Joint Patch Cables
Bundles Designed Specifically for Optogenetics Applications

Other Fiber Components

Couplers and WDMs with Custom Wavelengths or Connectors
GRIN Lenses with Custom Wavelengths, Pigtails, or Connectors
Custom Laser Pigtails
Custom FiberBench Configurations
Our industry-leading selection of fiber, connectors, and tubing, dedicated manufacturing cell, quick turnaround times for small orders, and reliable quality and consistent delivery on OEM orders make Thorlabs' the ideal solution for your custom or OEM application. With over 80 years combined experience to draw from, our key production personnel can easily modify catalog items or design and manufacture custom items to meet specific application requirements. We are happy to discuss your individual custom or OEM needs; please contact us with any questions or to request a quote.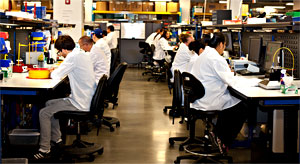 Click to Enlarge
Custom Patch Cable Manufacturing Area
at Thorlabs' Newton, NJ Facility
Custom Patch Cables
Our Custom Patch Cable Configurator offers a convenient way to build and order your custom cable quickly and easily. This tool is designed to be accessible to first time custom cable buyers while also allowing veterans a fast way to place their order. View each cable as you build it and add your custom item to your Thorlabs' shopping cart when it is complete. The pricing and lead time updates in real time as you make selections. If you don't see an option you are looking for, submit your request to us via a form that automatically logs every selection you have already made.
Custom Bundles
Thorlabs is pleased to offer custom straight and fan-out fiber bundles with random or mapped fiber configurations. We are in the process of expanding our bundle production capabilities, so do not hesitate to inquire about your specific requirements. Our engineers will be happy to work with you to determine if Thorlabs can produce a fiber bundle that fulfills your needs. To receive a quote, please provide a drawing or draft of your bundle configuration. For more information, please visit the Custom Bundles tab on this or any of our other stocked fiber bundle pages.
Optogenetics
Thorlabs' line of optogenetic components includes custom cannulae, light-weight and rotary joint patch cables, and bundles designed spsecifically for optogentic applications. Our cannulae are produced using fiber drawn in house for better control over the core / cladding concentricity and finished using a controlled machine polishing process.
OEM
Along with our custom capabilities, Thorlabs' fiber team offers a number of services unique to the OEM customer. Our engineering team sends samples for you to test and review prior to the manufacturing process to insure the items will be made to meet your specific needs. We are able to meet special testing requirements and can provide any required documentation, such as a certification of compliance. We can create a custom part number for you to aid in future ordering. Blanket ordering with regularly scheduled deliveries is also available.