Optomechanics Capabilities


Please Wait
Optomechanics Design
Key Capabilities
SolidWorks for 3D Modeling
Finite Element Analysis (FEA) for Evaluating Material Stress
Our mechanics design staff is a team of engineers and draftsmen working together to produce new state-of-the-art optomechanical components. Thorlabs' designs often begin as customer suggestions, and about 95% of the items introduced by our mechanics team bear the "Customer Inspired" designation.
After a "raw idea" is introduced, we then design through a collaborative process; ideas are discussed as a team during design review meetings to determine the key target specifications and features prior to starting any any design work. Our goal is to ensure that all design requirements and potential concerns are addressed early in the process to ensure that new products can be delivered to customers as quickly as possible. Concepts are then developed and refined using SolidWorks for 3D modeling. Finite Element Analysis (FEA) software is used to evaluate designs for unwanted material stresses that could lead to failure of parts.
Click to Enlarge
One of our mechanical engineers designing a product using SolidWorks.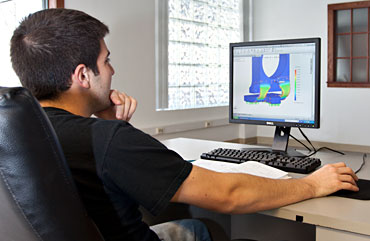 Click to Enlarge
Another of our mechanical engineers performing FEA on a mirror mount design.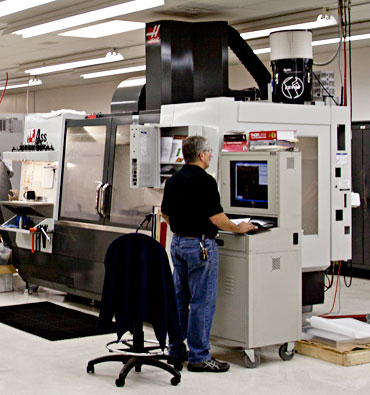 Click for Details
A machinist is operating one of our vertical mills used for prototyping.
Optomechanics Prototyping
Key Capabilities
3D Printer for Plastic Prototyping
CNC Mills with Four-Axis Capabilities
CNC Turning Center
Three Week Lead Times for Prototypes and Initial Production Runs
As an initial step in the prototyping process, we often use our 3D printer to produce an accurate plastic representation of the component.The printer is capable of producing fully functional items, so that threads and other features may be evaluated without the time and cost of making a machined prototype.
Once a machined prototype is needed, Thorlabs' rapid prototype shop consists of five machines, both four-axis mills and turning centers, dedicated to prototype runs. Items are produced in quantities required for our design team to test and verify the specifications and features. For straight-forward designs this prototype run serves as our initial production run so that we can bring these products to our customers even more quickly.
Optomechanics Testing
Key Capabilities
Force Gauges and Dial Indicators for Measuring Performance Specifications
Optek Vision System for Precise Measuring
Dorsey Optical Comparator for Measurements and Visualizing Tool Marks
Espec Chamber for Testing Under Extreme Temperatures and Humidity
Specialized Experimental Setups on Optical Tables
All of our designs are subject to extensive testing to ensure the design meets the key specifications. This may be as simple as the use of GO/NO GO gauges for our thread adapters, or advanced, such as the extensive thermal and repeatability testing performed on our Polaris™ Mirror Mounts.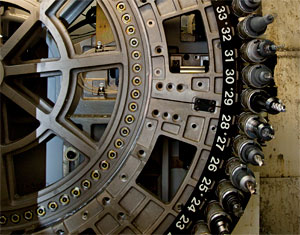 Click to Enlarge
Our Haas EC400 Pallet Pool Horizontal Mill Features a 72 tool selection.
Production Machine Shop
Key Capabilities
Vertical Mills: Several Featuring Custom Rotatable Vises to Increase Capacity
Horizontal Mills: Two Machines with Pallet Pools that Load Machines for Six Hours of Machining Time
Turning Centers

Bar Feeders Hold More Material To Increase Machining Time and Decrease Loading Time
Subspindles Allow the Part to be Handled Less
Live Tooling Allows Turning Centers to be Used as Mills

Precision Screw Machines
Laser Engravers
Manual Tool Room
Tumbling Center for Finishing Machined Components
Our production machine shop is capable of producing 20,000 individual components per week. The machine shop staff consist of almost fifty machinists who work in two shifts; however, our shop can operate key equipment up to 20 hours per day "lights out." With our mills, lathes, screw machines, and laser engravers in-house, we can be sure that all of our production processes are carefully controlled. Our machinists' innovative techniques use standard shop equipment in unique ways to increase the efficiency of each machine, including designing custom fixtures that greatly reduce or eliminate setup time. Our shop's overall goal is to utilize the latest technology to produce parts faster while minimizing costs.
Final Product Assembly and Lean Manufacturing
Key Capabilities
Lean Manufacturing
Cross-Training, Technology, and Organization Save Time and Increase Quality
Our mechanical product assembly team consists of over 40 assemblers who work in teams, or cells, to manufacture families of similar products. Cross-training ensures that the assemblers can move quickly to different cells for different products, depending on production needs. The team is able to fulfil over 1,000 production orders of various quantities of individual items per week. "Right-sizing" these production orders means that finished inventory is placed into our warehouse at close to the rate at which the items are sold; this minimizes waste and lowers costs.
Our assemblers are committed to lean manufacturing to reduce costs and improve quality. Andon signal lights are used to track types of production orders and to indicate when quality control is needed. Our investment in technology, such as precision glue dispensers and ultrasonic cleaners saves assembly time and increases the durability of finished product. As the final step in the assembly process, our "Bag & Label" machine prints the labels and packages the item for shipment in one step. Our employees are encouraged to come up with new solutions, and our flexible model means these ideas can be quickly tested, evaluated, and implemented.
Specials and Custom Orders
Key Capabilities
Dedicated Staff for Processing Quotes and Lead Time Requests
Modifications Requiring Only Assembly Time Typically Have a 1 to 2 Week Lead-Time
Specials Requiring Machining Typically Have a 5 to 7 Week Lead-Time, Depending on Complexity
Our in-house machine shop and assembly teams are uniquely qualified to handle special requests for modifications to our catalog optomechanical components. Our dedicated custom orders staff is able to help with all phases of your request: quoting, sales, and planning and manufacturing support. We have assembly cells dedicated to specials, and our rapid prototype machine shop is also able to manufacture specials, leading to shorter lead-times. If you have a custom or special request, or question about our capabilities, please contact Tech Support to start a discussion.
The section below describes our precision screw capabilities as one example where we can provide support for OEM and custom orders.


OEM & Custom Precision Screws
Thorlabs manufactures custom and high volume OEM precision screws and bushings with various diameters, lengths, and threads. To inquire about custom or OEM precision screws, please contact Technical Support or use the "Contact Us" form to the right. A specialist will contact you within 24 hours or the next business day.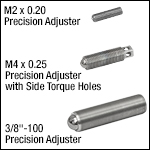 Click to Enlarge
Precision Screw Capabilities
Thorlabs' in-house machine shop, located in Newton, NJ, gives us the ability to quickly produce large quantities of precision screws and bushings. We are equipped to manufacture screw diameters ranging from 2 mm to 20 mm with lengths up to 165 mm and a maximum thread pitch of 200 TPI. Our standard adjuster screw design has a hardened steel ball tip to provide a single point of contact; for other applications we are able to provide adjusters without the steel ball. Custom orders can be achieved on a case-by-case basis. For large orders of an item, Thorlabs passes on to the customer the cost savings associated with planned production of high volumes of that item. For more information on Thorlabs' discount pricing policy, click the "V" link to the right. We also offer a large variety of stock precision screws, which are available here.

Click to Enlarge
Fast Turn-Around Times
Our experienced, highly skilled machinists are running our on-site Citizen Swiss Screw Machines 24 hours a day, allowing us to produce high-volume custom and OEM orders. Each machine is capable of running unattended, producing one screw every 30 to 120 seconds. This flexibility allows us to fulfill multiple orders at once without sacrificing quality.
High Quality
Thorlabs inspects all of our fabricated precision screws and bushings after the initial fabrication process and right before packaging. All inspections adhere to the ANSI AQL1.5 acceptable quality level, which states that if a certain percentage, based upon the amount of product in a certain lot, does not meet specification, then the entire lot is not sold. This ensures that all customers receive the highest quality product every time and that all items will be of equal performance.
Precision Screw Production