Furcation Tubing, Sleeves, and Connector Caps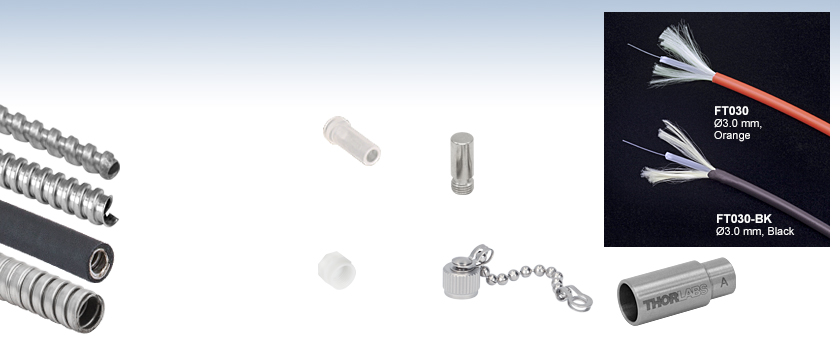 FTS61A
Stainless Steel Sleeve
for Ø6.1 mm Tubing
CAPF
Cap for Ø2.5 mm Ferrules,
Pack of 25
FT05SS
Ø5.0 mm Stainless Steel Tubing
FT061PS
Ø6.1 mm Stainless Steel Tubing,
Best Choice for Light-Sensitive Setups
CAPSM
Metal Threaded Cap
for SMA Connectors,
Pack of 4
Tubing Protects Fiber and Provides Easy Identification
Sleeves Join Stainless Steel Tubing to Connectors
Fiber Connector Caps Protect Polished Faces of Fiber
FT023SS
Ø2.3 mm Stainless Steel Tubing
CAPX1
FC Plastic Connector Cap
CAPF1
FC Metal Connector Cap
FT080SSW
Ø8.0 mm Stainless Steel Tubing

Please Wait
Furcation Tubing Selection Guide
Item #
Inner Diameter
Outer Diameter
Color
FT900Y
≥400 µm
900 µm
Yellow
FT900Ka
≥400 µm
900 µm
Yellow, Blue, or Black
FT020a
≥1.0 mm
2.0 mm
Orange, Yellow, or Black
FT023SS
1.2 mm
2.3 mm
Silver
(Stainless Steel)
FT030DFa
≥1.0 mm
3.0 mm
Blue, Green, or Red
(Polyvinylidene Fluoride)
FT030a
≥1.0 mm
3.0 mm
Orange, Yellow,
Blue, or Black
FT038a
≥1.8 mm
3.8 mm
Red or Black
FT05SS
3.5 mm
5.0 mm
Silver
(Stainless Steel)
FT061PS
3.5 mm
6.1 mm
Black
(Coated Stainless Steel)
FT080SSW
6.0 mm
8.0 mm
Silver
(Stainless Steel)
These denote item # prefixes. The item # suffix indicates the color of the tubing.
Features
Protect Fiber Optic Cables
Colored Tubing for Quick Fiber Type Identification (See Color Choices in Table at Right)
Black Furcation Tubing for Light-Sensitive Applications
Stainless Steel Tubing Offers High Degree of Protection
Sleeves Securely Join Stainless Steel Tubing to Fiber Connectors
High-Temperature, Vacuum-Compatible Stainless Steel Sleeves Ideal for Use with Polyimide Fiber
Connector Caps Keep Polished Fiber Tips Clean
Furcation Tubing
Furcation tubing, also commonly referred to as jacketing, is used to protect delicate optical fiber from damage. The color of tubing is typically chosen to represent the type of fiber patch cable. Yellow tubing is the industry standard for single mode fiber, orange designates multimode fiber, and blue is typically reserved for polarization-maintaining fiber. Black tubing prevents visible light from entering through the length of the fiber. Our FT030DF series furcation tubing has a polyvinylidene fluoride (PVDF) outer jacket and provides higher rigidity that can protect delicate fibers such as our fluoride fibers. For additional light blocking, our furcation tubing can be placed inside any of our stainless steel tubing with a sufficiently large inner diameter.
When selecting furcation tubing, please note its inner diameter, as this dimension must be larger than the outer diameter of the fiber you are using. Custom colors for furcation tubing are available. Additionally, as an alternative to jacketing your own fiber, Thorlabs offers custom pre-made patch cables. Please contact Tech Support for further information about Thorlabs' custom jacketing capabilities.
Stainless Steel Furcation Tubing and Sleeves
Thorlabs offers several stainless steel furcation tubing options that provide high rigidity but with a larger bend radius. Generally, the smallest tubing that fits the fiber is ideal, but it is sometimes beneficial to use larger tubing to protect a fiber with a larger bend radius. Our stainless steel sleeves effectively serve the same function as a strain relief boot and shield the connection from dust, dirt, and other external contaminants. We also offer a 304 stainless steel sleeve that can withstand environments with temperatures up to 250 °C or vacuum down to 10-10 Torr. It is intended to be used with our high-temperature, vacuum-compatible SMA905 multimode connectors and polyimide-coated fiber without furcation tubing.
Fiber Connector Caps
Dirt on the fiber tip can result in permanent damage to the fiber connector. This can result in increased coupling losses or undesirable mode structure in the output light. To prevent damage to the fiber end face, clean the tip before each use and use a connector cap to protect the fiber end face when it is not in use (see our fiber optic cleaning products). Thorlabs offers caps for Ø1.25 mm, Ø2.5 mm, and Ø3.2 mm fiber connector ferrules; metal caps for FC and SMA connectors; metal caps for FC, SMA or ST®* bulkheads and mating sleeves; and plastic caps for FC bulkheads and mating sleeves. See below for more information.
*ST® is a registered trademark of Lucent Technologies, Inc.