Fused Silica Vials for Spectroscopy
Fused Silica Vial with 1.5 mL or 5 mL Sample Capacity
Low Background Signal when Used in Raman Applications
Screw-On Cap with PTFE Septum to Prevent Sample Contamination
VFS1512
1.5 mL, Ø12 mm
VFS5021
5 mL, Ø20.5 mm

Please Wait

Click to Enlarge
A VSF5021 Vial Used with a
Portable Raman Spectrometer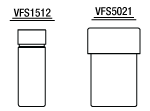 Click for Details
Mechanical Drawings
The VFS1512 and VFS5021 Fused Silica Vials can hold 1.5 mL or 5 mL, respectively, of a liquid sample. The fused silica composition of the vials makes them suitable for Raman spectroscopy applications, where the low background signal of fused silica improves measurement sensitivity. The broad UV to NIR transmission window of fused silica makes these vials suitable for a range of other spectroscopy applications.
Both vials include a cap that screws onto the threaded top of the vial base. A PTFE septum attached to the cap protects the sample from environmental contamination when the cap is fully screwed on.
Both of these vials are included in our RASPA1 Sample Accessory Kit for RASP Series Spectrometers and can be used with the container holder from the RASPA1 as shown in the image to the right. These vials can be purchased as replacement parts for the RAPSA1 kit or on their own for use in custom Raman setups.
Posted Comments:
No Comments Posted