Ø1.5" Post Bracket Platforms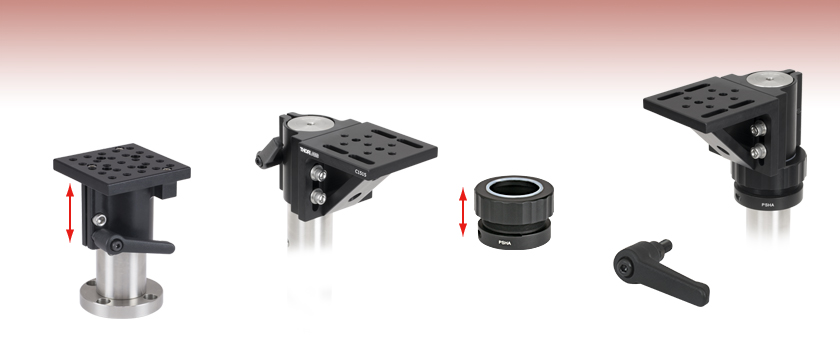 Sturdy Platforms for Our Ø1.5" Solid Stainless Steel Posts
Contains 1/4"-20 (M6) Tapped Holes, Clearance Holes, and Clearance Slots
Coarse Height Adjustment Using Quick-Release Handle
Fine Height Adjustment Using Adjustable Height Collar
C1515
C1519
Posts & Bases Sold Separately
1.75"
(44.4 mm)
Vertical
Adjustment
0.32"
(8.2 mm)
Vertical
Adjustment
Adjustable Height Collar


Application Idea
Mounting Platform with Adjustable Height
C1515 Bracket
with PSHA
Adjustable
Height Collar
PSHA
C15QR
Quick-Release Handle

Please Wait
Features
C1515(/M) and C1519(/M): Provide a Rigid Horizontal Mounting Platform for our Ø1.5" Posts (Sold Separately)
PSHA(/M): Provides Fine Height Adjustment
C15QR(/M): Quick-Release Handle for Fast and Repeated Positioning of Post Clamps
The C1515(/M) and C1519(/M) Manually Adjusted Horizontal Mounting Platforms offer a generous array of 1/4"-20 (M6) mounting holes. When final positioning is achieved, the clamp locking mechanism is actuated with a quick-release handle. These platforms are a perfect alternative to our precision Lab Jacks when fine tuning of the position is not required.
The Quick-Release Handle is included with the C1515(/M) and C1519(/M) and is also available separately below. The handle allows for a simple and reliable way of securing these clamps to a post. It is 2.03" (51.4 mm) long and contains a 1/4"-20 (M6) threaded stud that engages the part by simply rotating the handle. Once the handle is tightened to secure a clamp to a post, the internal ratchet-type mechanism allows for the handle's rotational position to be adjusted without actuating the mounting stud. Simply pull the handle outwards to disengage it from the mounting stud then rotate it to a more convenient position. This feature ensures that the handle will always be accessible to the user.
The PSHA(/M) Adjustable Height Collar offers increased control over positioning. The PSHA acts as a fine height adjuster with a resolution of 0.025" (0.64 mm) per revolution of the actuator ring.