See what's new at Thorlabs:
View the full list of new products (below) or browse our entire product range.
All of these items are available now!

Choose

RSS Feed to have this information delivered to you.

1 New Product in the Fiber Recoaters Family!
«« View All New Products
«« View ByCategory
Fiber recoaters apply a protective coating to fusion-spliced optical fiber, offering more flexibility than a splice sleeve. Thorlabs' Vytran® fiber recoaters provide recoat lengths of 50 mm or 100 mm, depending on the model. Our fiber recoaters are available for 280 μm, 430 μm, or 600 μm coating diameters. Choose from a dedicated standalone system or multipurpose designs that are also capable of stripping, cleaning, cleaving, splicing, and/or proof testing.

Use the key below to determine which tools are appropriate for your application.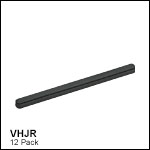 Replacement Rubber Strip for VHJ Fiber Holding Block Inserts (View Product Family)
1 New Product!
VHJR- Replacement Rubber Strip for VHJ Fiber Holding Block Inserts, 12 Pack RELEASED: May 18, 2020