Features
Longpass Region Cut-On Options Available from 280 to 1000 nm
Ø25 mm Rounds, 2" x 2" Squares, or 6" x 6" Squares
Kits Include Selected Longpass and Bandpass Filters
Edge Blackening Available Upon Request
These longpass colored glass filters are manufactured from different colors of Schott glass and are intended for use in a wide variety of applications. In addition to the longpass filters offered here, Thorlabs also offers a series of bandpass colored glass filters. In either case, the filters are available in both round and square varieties. The 25 mm round filters will fit into our manual or motorized filter wheels; alternatively, they can be mounted in a lens tube. A selection of Ø25 mm filters is available premounted. To mount the 2" x 2" square filters, choose from our selection of fixed filter holders. For the 6" x 6" filter, we recommend the FP02 Plate Holder.
Several of the colored glasses used for our filters are fluorescent at certain wavelengths; for more details on how this may affect certain applications, contact Technical Support. For narrowband sources, we recommend our dielectric edgepass filters.
Colored Glass Filter Kits
Thorlabs also offers two filter kits containing our most popular bandpass and longpass filters. For specific product details, please see the bottom of the page.
Storage Boxes
If you purchase individual filters and would like to have a safe, convenient way to store them when not in use, consider our storage boxes. These are the same storage boxes that our kit filters arrive in. There is one box (KT01) designed for mounted Ø25 mm filters and a second (KT03) for the unmounted 2" x 2" filters.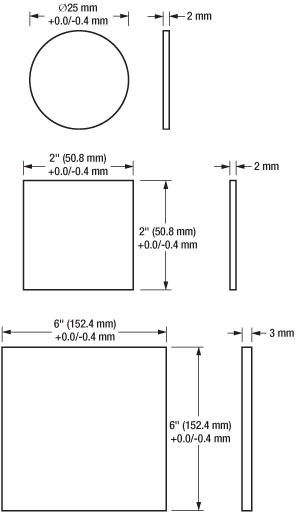 General Specifications
Material
Schott Colored Glass
Size
Ø25 mm
2" x 2"
6" x 6"
Thickness
2 mm
3 mm
Surface Quality
40-20 Scratch-Dig
Surface Flatness
<λ @ 632.8 nm
<λ @ 632.8 nm
over 1"
<λ @ 632.8 nm
over 1"
Tolerance
+0.0/-0.4 mm (Diameter)
+0.0/-0.4 mm
(Length and Width of Square Filter)
Wedge
<3 arcmin
<5 arcmin
Clear Aperture
80% of Diameter
80% of Length and Width
Item #
(Ø25 mm)
Item #
(2" Square)
Item #
(6" Square)
Schott
Glass
Description
FGL280a
FGL280S
N-WG280
280 nm Longpass
FGL400a
FGL400S
GG400
400 nm Longpass
FGL420
GG420
420 nm Longpass
FGL435a
FGL435S
GG435
435 nm Longpass
FGL455
GG455
460 nm Longpass
FGL495a
FGL495S
GG495
495 nm Longpass
FGL515a
FGL515S
OG515
515 nm Longpass
FGL530
OG530
530 nm Longpass
FGL550a
FGL550S
OG550
550 nm Longpass
FGL570
OG570
570 nm Longpass
FGL590a
FGL590S
OG590
590 nm Longpass
FGL610a
FGL610S
FGL610H
RG610
610 nm Longpass
FGL630
RG630
630 nm Longpass
FGL645
RG645
650 nm Longpass
FGL665a
FGL665S
RG665
665 nm Longpass
FGL695
RG695
700 nm Longpass
FGL715a
FGL715S
RG715
715 nm Longpass
FGL9
RG9
721 nm Longpass
FGL780a
FGL780S
FGL780H
RG780
780 nm Longpass
FGL830
RG830
830 nm Longpass
FGL850a
FGL850S
FGL850H
RG850
850 nm Longpass
FGL1000a
FGL1000S
RG1000
1000 nm Longpass
Below are transmission plots (including surface reflections) as a function of wavelength for each of the colored glass filters presented on this page. Data was obtained for normal incidence. In each case, the shaded region indicates the range for which the transmission was >50% of the maximum transmission for that particular filter. To enlarge the plot, simply click on the plot. Thorlabs also offers bandpass colored filters.
Click on Graphs to Enlarge: