Specification
Imperial Boards
Metric Boards
Material
Aluminum Plate
Finish
Matte Black Anodized
Breadboard Thickness
0.5"
12.7 mm
Flatness
±0.006" over 1 ft2
±0.15 mm over 0.3 m2
Hole Size and Spacing
1/4"-20 Tapped Holes on 1" Centers
M6 Tapped Holes on 25 mm Centers
Distance from Edge
to First Hole
0.5" on All Sides
12.5 mm on All Sides
Number of Counterbored Holesa
Four 1/4"-20 Located at Corners - Inset 1"
Four M6 Located at Corners - Inset 25 mm

Click to Enlarge
A Fifth Mounting Hole in the Middle of the Breadboard Increases Rigidity and Reduces Stress When Mounting Heavy Loads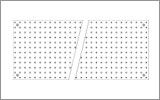 Custom Breadboards
Features
Large Range of Sizes Available from Stock
Standard Imperial and Metric Breadboard Hole Patterns
Offset Mounting Counterbores Allow a Full, Uninterrupted, Threaded Hole Matrix
Larger Breadboards Have a Fifth Center-Located Counterbore

Imperial: At Least 18" Wide
Metric: At Least 450 mm Wide

Black Anodized Surface with Low Reflectance
Double-Hole Density Versions and Custom Sizes Available
These solid aluminum, nonmagnetic baseplates provide a convenient and cost-effective platform for assembling prototype optical assemblies, conducting experiments, and mounting small subsystems. They are finished with a black, minimally reflective anodized coating and are through-drilled with a standard 1" (imperial) or 25 mm (metric) hole pattern offset 1/2" or 12.5 mm, respectively, from the edges of the board. The holes are threaded completely through these breadboards, allowing components to be mounted on both sides at once.
Each breadboard features four or five mounting holes, offset from the array of 1/4"-20 (M6) threaded holes, which are counterbored to create an uninterrupted surface for any intended application. The four standard mounting holes are located at each corner of the breadboard, inset 1" from each edge (25 mm on metric). The larger imperial and metric breadboards have a fifth counterbored mounting hole at the center of each board (imperial boards 18" or wider, metric boards 450 mm or wider). Utilizing the center mounting hole increases the mounting options available, reduces stress at the corner mounting holes, and increases rigidity when heavy loads are placed on the boards (see photo to the right). The mounting holes may be used to attach the breadboards to optical tables, other breadboards, mounting posts, brackets, or a variety of other surfaces or mounts. Please see the Mounting Options tab for more details.
For vacuum applications, we recommend using our selection of Unanodized Breadboards.
Other Breadboard Options
Optical Breadboard Enclosures are available to protect sensitive equipment from dust, stray light, acoustic noise, and thermal variations. Enclosures are offered completely sealed or with sliding door access.
Thorlabs also offers SlimLine Double Hole Density Aluminum Breadboards with 1/2" offset hole spacing, doubling the density of mounting holes. These are offered in sizes ranging from 4" x 24" to 8" x 36" (100 mm x 600 mm to 200 mm x 900 mm) with thicknesses of 0.5" (12.7 mm), making their slim profile ideal for compact work areas. The same double-hole-density pattern is also available on our circular breadboards.
For limited space applications, Thorlabs offers the MS12B and MS12B/M Mini-Series Breadboards. These breadboards feature increased tapped hole density and thinner breadboard thickness.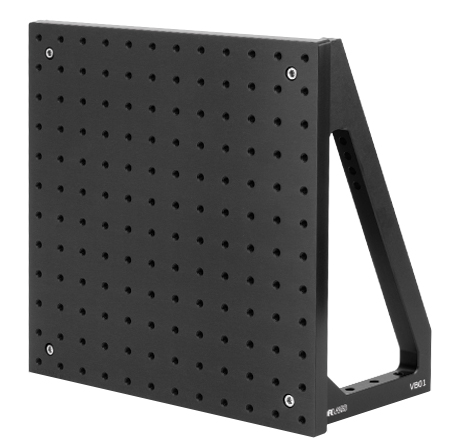 Vertical Arrangement
Thorlabs' aluminum breadboards can be mounted vertically (or perpendicular to a mounting surface) using a wide variety of 90 degree mounting plates. For tall arrangements, we recommend the setup shown to the left. Here, the MB12 breadboard is vertically oriented using two VB01 Vertical Brackets. For smaller arrangements, the AB90, AP90, or AP90L Right-Angle Brackets may be used.
---
Vibration Isolating Feet
Thorlabs' aluminum breadboards may be mounted on a set of AV2 Vibration Isolating Feet, rated for 32 kg (70.4 lbs). These sorbothane bumpers may be used to isolate a small breadboard from its mounting surface.
Not shown: Standard RDF1 Rubber Damping Feet may also be used where high vibrational damping is not necessary.
---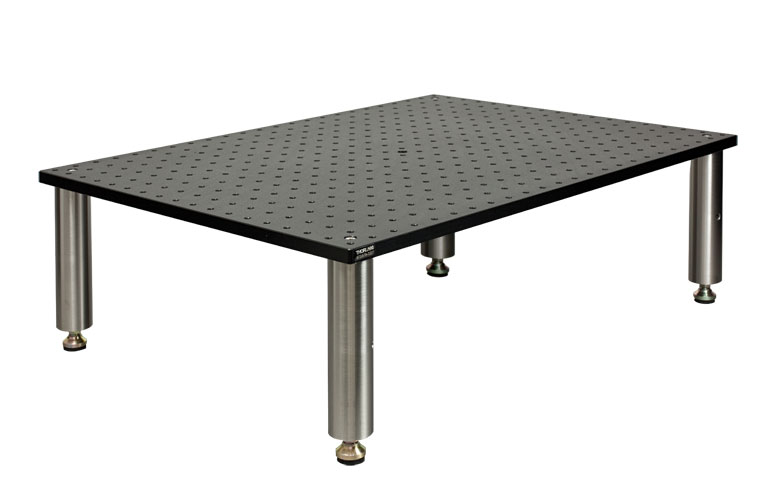 Elevated Arrangement with Adjustable Mounting Feet
A set of Ø1.5" Mounting Posts can be used to elevate an aluminum breadboard off of the work surface. At left, an MB1824 breadboard is shown with four P6 Mounting Posts. An adjustable, self-leveling BMF4 Mounting Foot is attached to each mounting post. The self-leveling mounting feet feature rubberized feet and screw thread height adjustment.
Not shown: DP14A Damped Posts are available in 14" lengths for vibration sensitive elevated mounting applications.
---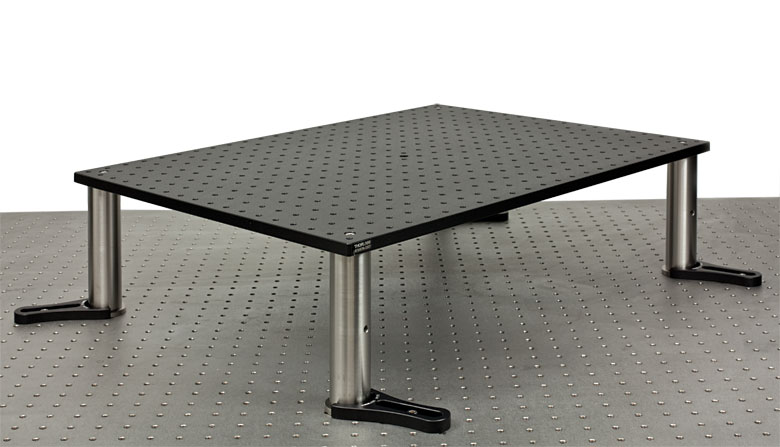 Fixed Elevated Arrangement with Pedestal-Style Feet
A more permanent Aluminum Breadboard mounting option, shown to the left, features pedestal-style Ø1.5" Mounting Posts clamped to an optic bench. The MB1824 Aluminum Breadboard to the left is elevated off the optic bench surface using a set of four P6 Mounting Posts, each with a PB4 Pedestal Base Adapter and PF175 Clamping Fork.
Not shown: Ø1.5" Translating Posts or Ø1.5" Damped Posts may also be used in lieu of the P6 Mounting Posts for applications requiring further height adjustment or reduced sensitivity to vibrations, respectively.
---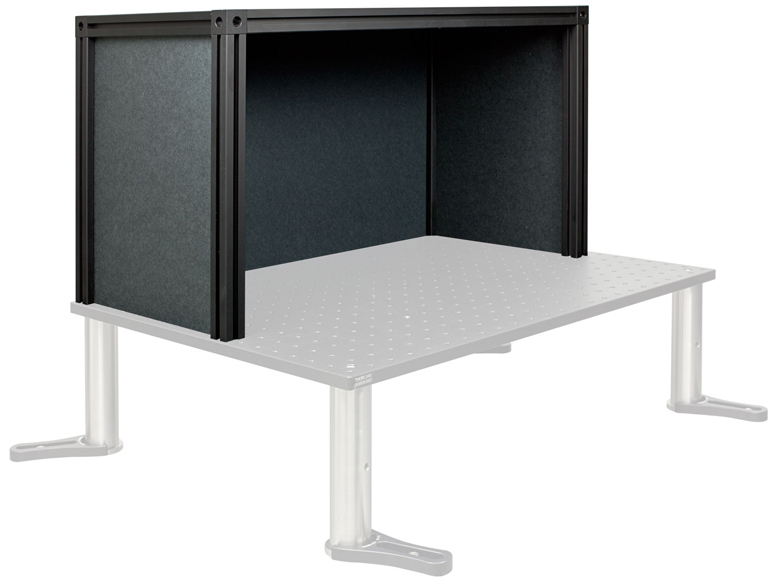 Breadboard Enclosure Systems
Enclosures may be added to Thorlabs' aluminum breadboards to house light and dust-sensitive equipment. Thorlabs offers a variety of plexiglass and standard darkening enclosures. The XE25C5 enclosure shown to the left has the front panel removed for access. Enclosures with sliding doors fabricated from plexiglass or black hardboard are also available.
Item #
Dimensions
(L x W x H)
Unpackaged
Packaged
Mass
(kg)
Weight
(lbs)
Mass
(kg)a
Weight
(lbs)a
Imperial
MB4
4" x 6" x 0.5"
0.50
1.10
0.52
1.15
MB412
4" x 12" x 0.5"
1.0
2.2
1.3
2.86
MB6
6" x 6" x 0.5"
0.75
1.65
0.81
1.78
MB612F
6" x 12" x 0.5"
1.5
3.3
1.8
3.96
MB618
6" x 18" x 0.5"
2.3
5.06
2.72
5.98
MB624
6" x 24" x 0.5"
3.00
6.61
4.60
10.13
MB636
6" x 36" x 0.5"
4.50
9.92
6.14
13.50
MB648
6" x 48" x 0.5"
6.00
13.23
6.14
13.50
MB8
8" x 8" x 0.5"
1.33
2.93
1.40
3.09
MB810
8" x 10" x 0.5"
1.66
3.66
1.76
3.87
MB1012
10" x 12" x 0.5"
2.50
5.51
2.64
5.80
MB12
12" x 12" x 0.5"
3.00
6.61
3.36
7.40
MB1218
12" x 18" x 0.5"
4.50
9.92
5.84
12.85
MB1224
12" x 24" x 0.5"
6.00
13.23
7.36
16.20
MB1236
12" x 36" x 0.5"
9.00
19.84
10.52
23.15
MB1248
12" x 48" x 0.5"
12.00
26.45
14.32
31.50
MB18
18" x 18" x 0.5"
6.70
14.7
7.50
16.5
MB1824
18" x 24" x 0.5"
9.00
19.84
11.02
24.25
MB1830
18" x 30" x 0.5"
11.50
25.3
13.0
28.6
MB1836
18" x 36" x 0.5"
13.5
29.7
15.0
33.0
MB2424
24" x 24" x 0.5"
12.00
26.45
14.61
32.15
MB2436
24" x 36" x 0.5"
18.00
39.68
18.04
39.68
MB2448
24" x 48" x 0.5"
24.00
52.91
27.05
59.52
MB30
30" x 30" x 0.5"
19.20
42.24
21.0
46.2
Item #
Dimensions
(L x W x H)
Unpackaged
Packaged
Mass
(kg)
Weight
(lbs)
Mass
(kg)a
Weight
(lbs)a
Metric
MB1015/M
100 mm x 150 mm x 12.7 mm
0.50
1.10
0.67
1.47
MB1030/M
100 mm x 300 mm x 12.7 mm
1.0
2.2
1.3
2.86
MB1515/M
150 mm x 150 mm x 12.7 mm
0.75
1.65
0.92
2.03
MB1530F/M
150 mm x 300 mm x 12.7 mm
1.5
3.3
1.8
3.96
MB1545/M
150 mm x 450 mm x 12.7 mm
2.3
5.06
2.72
5.98
MB1560/M
150 mm x 600 mm x 12.7 mm
3.00
6.61
4.60
10.13
MB1590/M
150 mm x 900 mm x 12.7 mm
4.50
9.92
6.14
13.50
MB15120/M
150 mm x 1200 mm x 12.7 mm
6.00
13.23
6.14
13.50
MB2020/M
200 mm x 200 mm x 12.7 mm
1.33
2.93
1.42
3.12
MB2025/M
200 mm x 250 mm x 12.7 mm
1.66
3.66
1.82
4.00
MB2530/M
250 mm x 300 mm x 12.7 mm
2.50
5.51
2.73
6.00
MB3030/M
300 mm x 300 mm x 12.7 mm
3.00
6.61
3.64
8.00
MB3045/M
300 mm x 450 mm x 12.7 mm
4.50
9.92
5.61
12.35
MB3060/M
300 mm x 600 mm x 12.7 mm
6.00
13.23
7.27
16.00
MB3090/M
300 mm x 900 mm x 12.7 mm
9.00
19.84
10.74
23.63
MB30120/M
300 mm x 1200 mm x 12.7 mm
12.00
26.45
14.32
31.50
MB4545/M
450 mm x 450 mm x 12.7 mm
6.70
14.7
7.50
16.5
MB4560/M
450 mm x 600 mm x 12.7 mm
9.00
19.84
10.73
23.60
MB4575/M
450 mm x 750 mm x 12.7 mm
11.20
24.64
13.0
28.6
MB4590/M
450 mm x 900 mm x 12.7 mm
13.5
29.7
15.0
33.0
MB6060/M
600 mm x 600 mm x 12.7 mm
12.00
26.45
13.86
30.50
MB6090/M
600 mm x 900 mm x 12.7 mm
18.00
39.68
24.50
53.90
MB60120/M
600 mm x 1200 mm x 12.7 mm
23.00
50.71
27.05
59.52
MB7575/M
750 mm x 750 mm x 12.7 mm
18.60
40.92
21.0
46.2
Breadboards

Nexus, Optimized Damping

Intrinsically Damped

Aluminum Honeycomb

Solid Aluminum
Construction
Breadboard Thickness
60 mm (2.4")
110 mm (4.3")
58 mm (2.28")
25 mm (0.98")
55 mm (2.2")
12.7 mm (0.5")
Working Surface
430 Grade Stainless Steel Top Plate
Aluminum
Solid Aluminum
Anodized or Unanodized
Top Skin
5 mm (0.20")
5 mm (0.20")
6 mm (0.24")
N/A
Bottom Skin
5 mm (0.20")
3 mm (0.12")
3 mm (0.12")
N/A
Core Design
High-Density Plated Steel Honeycomb, 0.26 mm Thick
High-Density Plated Aluminum Honeycomb
N/A
Side Panels
Rigid Steel Box Section
Moisture-Resistant
Medium Density Fiberboard (MDF)
Black Laminated Aluminum Sides
N/A
Ferromagnetism
Magnetic or Non-Magnetic Options
Magnetic
Non-Magnetic
Sealed Holes
Sealed (25 mm Depth) or Non-Sealed Options
Non-Sealed
N/A
Threads and Spacing
1/4"-20 (M6) Tapped Holes on 1" (25 mm) Centers or Untapped Top Plate
1/4"-20 (M6) Tapped Holes on 1" (25 mm) Centers
Distance from Edge to First Holes
0.5" (12.5 mm) on all Sides
1.5" (37.5 mm) on all Sides
1.0" (25 mm) on all Sides
0.5" (12.5 mm) on all Sides
Performancea
Damping
N/A
Stiffness
60 mm
(2.4")
Thick

25 mm
(0.98")
Thick

110 mm
(4.3")
Thick

55 mm
(2.2")
Thick
Click the

document icon or Part Number below to view the available support documentation
| | | |
| --- | --- | --- |
| Part Number | | Product Description |
| MB1012 | : | Aluminum Breadboard 10" x 12" x 1/2", 1/4"-20 Taps |
| MB1015/M | : | Aluminum Breadboard, 100 mm x 150 mm x 12.7 mm, M6 Taps |
| MB1030/M | : | Aluminum Breadboard, 100 mm x 300 mm x 12.7 mm, M6 Taps |
| MB12 | : | Aluminum Breadboard 12" x 12" x 1/2", 1/4"-20 Taps |
| MB1218 | : | Aluminum Breadboard 12" x 18" x 1/2", 1/4"-20 Taps |
| MB1224 | : | Aluminum Breadboard 12" x 24" x 1/2", 1/4"-20 Taps |
| MB1236 | : | Aluminum Breadboard 12" x 36" x 1/2", 1/4"-20 Taps |
| MB1248 | : | Aluminum Breadboard, 12" x 48" x 1/2", 1/4"-20 Taps |
| MB15120/M | : | Aluminum Breadboard, 150 mm x 1200 mm x 12.7 mm, M6 Taps |
| MB1515/M | : | Aluminum Breadboard, 150 mm x 150 mm x 12.7 mm, M6 Taps |
| MB1530F/M | : | Aluminum Breadboard, 150 mm x 300 mm x 12.7 mm, M6 Taps |
| MB1545/M | : | Aluminum Breadboard, 150 mm x 450 mm x 12.7 mm, M6 Taps |
| MB1560/M | : | Aluminum Breadboard, 150 mm x 600 mm x 12.7 mm, M6 Taps |
| MB1590/M | : | Aluminum Breadboard, 150 mm x 900 mm x 12.7 mm, M6 Taps |
| MB18 | : | Aluminum Breadboard, 18" x 18" x 1/2", 1/4"-20 Taps |
| MB1824 | : | Aluminum Breadboard 18" x 24" x 1/2", 1/4"-20 Taps |
| MB1830 | : | Aluminum Breadboard 18" x 30" x 1/2", 1/4"-20 Taps |
| MB1836 | : | Aluminum Breadboard 18" x 36" x 1/2", 1/4"-20 Taps |
| MB2020/M | : | Aluminum Breadboard, 200 mm x 200 mm x 12.7 mm, M6 Taps |
| MB2025/M | : | Aluminum Breadboard, 200 mm x 250 mm x 12.7 mm, M6 Taps |
| MB2424 | : | Aluminum Breadboard 24" x 24" x 1/2", 1/4"-20 Taps |
| MB2436 | : | Aluminum Breadboard 24" x 36" x 1/2", 1/4"-20 Taps |
| MB2448 | : | Aluminum Breadboard 24" x 48" x 1/2", 1/4"-20 Taps |
| MB2530/M | : | Aluminum Breadboard, 250 mm x 300 mm x 12.7 mm, M6 Taps |

| | | |
| --- | --- | --- |
| Part Number | | Product Description |
| MB30 | : | Aluminum Breadboard 30" x 30" x 1/2", 1/4"-20 Taps |
| MB30120/M | : | Aluminum Breadboard, 300 mm x 1200 mm x 12.7 mm, M6 Taps |
| MB3030/M | : | Aluminum Breadboard, 300 mm x 300 mm x 12.7 mm, M6 Taps |
| MB3045/M | : | Aluminum Breadboard, 300 mm x 450 mm x 12.7 mm, M6 Taps |
| MB3060/M | : | Aluminum Breadboard, 300 mm x 600 mm x 12.7 mm, M6 Taps |
| MB3090/M | : | Aluminum Breadboard, 300 mm x 900 mm x12.7 mm, M6 Taps |
| MB4 | : | Aluminum Breadboard 4" x 6" x 1/2", 1/4"-20 Taps |
| MB412 | : | Aluminum Breadboard, 4" x 12" x 1/2", 1/4"-20 Taps |
| MB4545/M | : | Aluminum Breadboard 450 mm x 450 mm x 12.7mm M6 Taps |
| MB4560/M | : | Aluminum Breadboard, 450 mm x 600 mm x 12.7 mm, M6 Taps |
| MB4575/M | : | Aluminum Breadboard, 450 mm x 750 mm x 12.7 mm, M6 Taps |
| MB4590/M | : | Aluminum Breadboard 450 mm x 900 mm x 12.7 mm M6 Taps |
| MB6 | : | Aluminum Breadboard 6" x 6" x 1/2", 1/4"-20 Taps |
| MB60120/M | : | Aluminum Breadboard, 600 mm x 1200 mm x 12.7 mm, M6 Taps |
| MB6060/M | : | Aluminum Breadboard, 600 mm x 600 mm x 12.7 mm, M6 Taps |
| MB6090/M | : | Aluminum Breadboard, 600 mm x 900 mm x 12.7 mm, M6 Taps |
| MB612F | : | Aluminum Breadboard, 6" x 12" x 1/2", 1/4"-20 Taps |
| MB618 | : | Aluminum Breadboard, 6" x 18" x 1/2", 1/4"-20 Taps |
| MB624 | : | Aluminum Breadboard 6" x 24" x 1/2", 1/4"-20 Taps |
| MB636 | : | Aluminum Breadboard 6" x 36" x 1/2" 1/4"-20 Taps |
| MB648 | : | Aluminum Breadboard 6" x 48" x 1/2", 1/4"-20 Taps |
| MB7575/M | : | Aluminum Breadboard, 750 mm x 750 mm x 12.7 mm, M6 Taps |
| MB8 | : | Aluminum Breadboard 8" x 8" x 1/2", 1/4"-20 Taps |
| MB810 | : | Aluminum Breadboard 8" x 10" x 1/2", 1/4"-20 Taps |