Fiber End Caps
End Caps with Diameters up to 8 mm
Available Uncoated or with 1064 nm VAR Coating
≥Ø5 mm Caps Have Taper or Stem for Splicing
Ideal for High-Power Coupling or to Protect Photonic Crystal Fiber
FEC1
Ø1 mm End Cap
FEC15
Ø1.5 mm End Cap
FEC5-1064
Ø5 mm End Cap with Taper,
1064 nm VAR Coating
FEC8S-1064
Ø8 mm End Cap with Taper and Stem,
1064 nm VAR Coating
Application Idea
FEC8S-1064 End Cap Spliced onto a Ø400 µm Core Fiber
(Not Shown to Scale)

Please Wait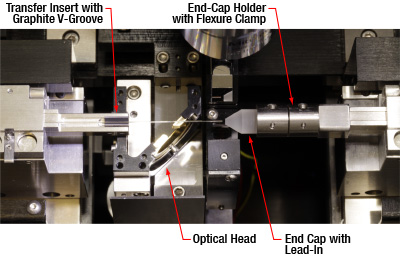 Click to Enlarge
Image of an FEC5-1064 Ø5 mm end cap with tapered lead-in prepared for splicing in the
GLZ4001EC CO2 End Cap Splicer
.

Click to Enlarge
Coupling Light into and Out of Standard Fiber vs. End-Capped Fiber
Common Specifications
Clear Aperturea
>80%
Surface Quality
20-10 Scratch-Dig
Surface Flatnessa
≤λ/4 at 633 nm
Parellelism
≤5 arcsec
Substrate
UV Fused Silica
Features
Ø1 mm to Ø8 mm UV Fused Silica Coreless End Caps
Tapered Lead-in Simplifies Splicing Fiber onto ≥Ø5 mm Caps
Versions with 1064 nm VAR-Coated Face to Reduce Back Reflections at the Air-to-Glass Interface
>80% Clear Aperture for Each End Face
≤5 arcsec Parallelism Between End Faces
Protect Fiber End Face by Reducing Energy Density at Air-to-Glass Interface
Ideal for High-Power Fiber Lasers and Amplifiers, Biomedical Imaging, and Protecting Photonic Crystal Fiber
Splice onto Optical Fiber Using Our Vytran® CO2 End Cap Splicer
Thorlabs' UV fused silica end caps range in size from Ø1 mm to Ø8 mm. End caps with a 5 mm or 8 mm cap diameter have either a stem or tapered lead-in on one end to simplify splicing them onto a fiber. They are also available with a 1064 nm antireflection coating on the side opposite the taper to reduce back reflections. Specifications and dimensions are provided in the tables below.
Each end cap is coreless (no waveguide) to allow the incoming light to expand evenly in the homogeneous material. When spliced onto a fiber, the end cap reduces the intensity at the air-to-glass interface of the fiber face to prevent potential damage from high-power sources, such as Q-switched lasers or fiber amplifiers. End caps can also be used to seal off the air holes in photonic crystal fiber to prevent water from entering.
Application Note
These caps can be spliced onto optical fiber using our Vytran® CO2 End Cap Splicer. The GLZ4001EC Splicer is an advanced splicer that is designed for splicing numerous types of fiber directly onto a large-diameter end cap. Utilizing a tapered lead-in allows end caps up to Ø9.5 mm to be spliced, as shown in the image to the upper right. Without a lead-in the maximum end cap diameter is 5 mm.
Item #
Dimensions (See Profile)
Profile
(Click for Details)
Holder
Compatible Splicing System
DCap
LCap
LStem
DS/Ta
θTaper
GLZ4001EC
GPX4000LZ
FEC1
1.0 mm
2.5 mm
N/A
N/A
N/A
ECH1V
FEC15
1.5 mm
3.8 mm
ECH15V
FEC2
2.0 mm
5.0 mm
ECH2V
FEC5
5.0 mm
12.5 mm
N/A
1.8 mm
60°
ECH5C
FEC8
8.0 mm
20.0 mm
ECH8C
-
FEC8S
8.0 mm
20.0 mm
4.0 mm
1.8 mm
60°
ECH8C
Diameter of the Stem or the Smallest Part of the Taper
Diameter of the Stem or the Smallest Part of the Taper
The antireflection coating is deposited on the side opposite the taper.