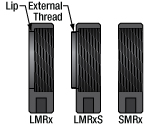 Click to Enlarge
Fixed Lens Mounts Feature Internal Threads and a Retaining Lip (LMRx), Internal and External Threads (LMRxS), or Internal Threads (SMRx)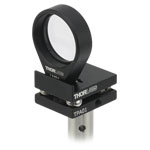 Click to Enlarge
LMR1 Ø1" Mount Attached to a
TPA01
Kinematic Adapter
Features
Internally SM-Threaded Mounts for 13 Optic Diameters from Ø1/2" to Ø4"
Internally and Externally SM-Threaded Mounts for Combining Optics and SM-Threaded Components
Internally SM-Threaded Mounts without Retaining Lip
Adapters for Mounting Small Optics in SM-Threaded Lens Mounts
Drop-In Alignment Plates for Fast Beam Alignment
Retaining Rings for Securing Optics in Place
Spanner Wrenches for Safe and Easy Optic Placement
Fixed Lens Mounts with Internal Threads (LMRx Series)
Our standard fixed optic mounts (LMRx series) are available for 13 distinct optic diameters ranging from Ø1/2" to Ø4", feature internal SM threading, and come complete with one retaining ring for securing the optic in place. They feature an 8-32 (M4) tapped hole for mounting on Ø1/2" posts. Our most popular fixed optic mounts in this series, the LMR05(/M), LMR1(/M), and LMR2(/M), are available individually or in packs of 5 for ordering convenience.


Click to Enlarge
LMRA Series Adapters for Mounting Small Optics
Fixed Lens Mounts with Internal and External Threads (LMRxS Series)
Thorlabs also offers fixed mounts with both internal and external SM threading (LMRxS series), which are available for optic diameters of
Ø1/2", Ø1", and Ø2". These mounts are ideal for mounting an optic in combination with a lens tube or other externally
SM-threaded component. Each LMRxS series mount also features an 8-32 (M4) tapped hole for Ø1/2" post mounting and comes complete
with a compatible retaining ring.
Fixed Lens Mounts with No Retaining Lip (SMRx Series)
To mount multiple lens tubes or mounted optics, Thorlabs offers a line of internally SM-threaded mounts with no retaining lip (SMRx series). These mounts can also be used to hold unmounted optics when combined with two retaining rings (not included). Like the LMRx and LMRxS series, these mounts also feature an 8-32 (M4) tapped hole for mounting on Ø1/2" posts.
Small Optic Adapters
For small optics (i.e., Ø10 mm or less), we offer stainless steel adapters, as shown to the right, that allow optics with various diameters ranging from Ø5.0 mm to Ø9.0 mm to be mounted in our SM05-threaded mounts, and optics with a Ø10 mm diameter to be mounted in our SM18-threaded LMR18 mount. We also offer a line of small optic adapters with external SM1 threading, which can mount optics from Ø5 mm to Ø20 mm in SM1-threaded lens mounts.
This page also features alignment plates for simple beam alignment, SM-threaded retaining rings, and spanner wrenches for easy optic installation.