General Specifications
Port Configuration
1x3
Termination
2.0 mm Narrow Key FC/PC or FC/APC
or Unterminated (Scissor Cut)
Fiber Lead Length and Tolerance
0.8 +0.075 m/-0.0 m
Jacket
Ø900 µm Loose Hytrel® Tube
Pigtail Tensile Load
5 N
Package Dimensions
3.94" x 3.15" x 0.39"
(100.0 mm x 80.0 mm x 10.0 mm)
Mounting
Four Through Holes for #2 (M2) Screwsa
Operating Temperature
-40 to 85 °C
Storage Temperature
-40 to 85 °C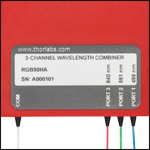 Click for Details
The ports on the RGB combiner are labeled with the wavelength and feature color-coded jackets on the fiber leads. The common port (COM) has a white jacket.
Features
Combine Three Wavelengths into a Single Fiber Output
Three Wavelength Combinations Available


473, 532, and 640 nm
488, 532, and 640 nm
488, 561, and 640 nm

Color-Coded Inputs for Easy Identification
Reversible: Can Also be Used to Split 3 Input Colors
0.8 m Long Single Mode Fiber Leads on All Ports
Available with 2.0 mm Narrow Key FC/PC or FC/APC Connectors or Unterminated Leads
Each Combiner is Shipped with an Individualized Product Data Sheet (Click Here for RGB26HB, RGB46HA, and RGB50HF Sample Data Sheets)
Mount to an Optical Table with the FCQB Mounting Base (Available Below)
Thorlabs' RGB combiners, also known as 3-wavelength combiners, allow three colors to be combined into a single output fiber. Three wavelength combinations are available: 473, 532, and 640 nm; 488, 532, and 640 nm; or 488, 561, and 640 nm. They can also be used in reverse, splitting three wavelengths entering the common port into three separate output ports.
As seen in the image to the above right, a label on the top of the housing indicates the wavelength for each port, or channel. Additionally, the Ø900 µm loose Hytrel® tube on each fiber leg is color coded: white indicates the common port and the colors of the other ports match the output wavelength. Each of the ports with an assigned wavelength has a ±5 nm bandwidth around that center wavelength. The graphs provided below give an example of the insertion loss in each channel for each of the color combinations offered. An insertion loss close to zero indicates high throughput at that wavelength. These combiners provide low cross-talk (good isolation) between channels: for each channel, a signal at the center wavelengths of the other two channels are suppressed by at least 10 dB compared to the throughput at that channel's specified wavelength.
The RGB combiners are tested during the manufacturing process to ensure that they meet specifications. Each RGB combiner is shipped with a detailed test report that includes transmission and isolation measurements as well an insertion loss plot showing the performance of Ports 1, 2, and 3. Sample data sheets for RGB combiners can be viewed here: RGB26HB, RGB46HA, or RGB50HF.
Each combiner is contained in a compact 3.94" x 3.15" x 0.39" (100.0 mm x 80.0 mm x 10.0 mm) housing that includes four through holes for mounting the device to our FCQB mounting base (available separately below). All fiber leads are jacketed in Ø900 µm loose Hytrel® tubes and are 0.8 m long. These combiners are offered from stock with 2.0 mm narrow key FC/PC or FC/APC connectors or with unterminated leads. Other fiber types and select wavelength combinations are available upon request. If a custom connector configuration is needed, same-day turnaround is possible for small orders if the order is placed before 12 PM EST. Please contact Technical Support with inquiries.
Click the

document icon or Part Number below to view the available support documentation
| | | |
| --- | --- | --- |
| Part Number | | Product Description |
| FCQB | : | Mounting Base for Thorlabs' RGB Combiners and 1x4 SM Couplers |
| RGB26HA | : | RGB Combiner: 473, 532, and 640 nm, FC/APC Connectors |
| RGB26HB | : | RGB Combiner: 473, 532, and 640 nm, No Connectors |
| RGB26HF | : | RGB Combiner: 473, 532, and 640 nm, FC/PC Connectors |
| RGB46HA | : | RGB Combiner: 488, 532, and 640 nm, FC/APC Connectors |

| | | |
| --- | --- | --- |
| Part Number | | Product Description |
| RGB46HB | : | RGB Combiner: 488, 532, and 640 nm, No Connectors |
| RGB46HF | : | RGB Combiner: 488, 532, and 640 nm, FC/PC Connectors |
| RGB50HA | : | RGB Combiner: 488, 561, and 640 nm, FC/APC Connectors |
| RGB50HB | : | RGB Combiner: 488, 561, and 640 nm, No Connectors |
| RGB50HF | : | RGB Combiner: 488, 561, and 640 nm, FC/PC Connectors |