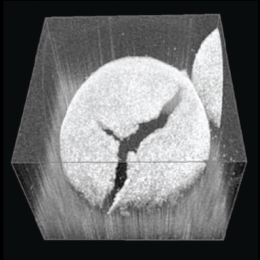 Drug Coating Analysis
The image to the left shows a coating for a delayed-release drug delivery system. Delayed-release drug delivery systems provide controlled drug release after a predetermined lag time. Due to increasing demand, various types of single unit (tablet or capsule) and multiple unit delayed release systems are being developed. Multi-layered delayed-release systems usually consist of an inert core and three layers of coating. The three coatings typically include a drug layer, a swellable polymer layer, and a water insoluble polymer outer coating. Thorlabs' high-speed OCT imaging system was chosen to evaluate the performance of this coating due to the ability of the OCT laser to penetrate the top polymer film and probe the microstructure of the layers below.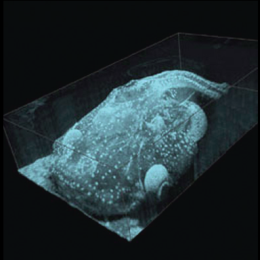 Developmental Biology
Optical Coherence Tomography (OCT) is a noninvasive imaging technique.  Given its imaging field of view of 1-10 mm, and imaging resolution of 2-20 µm, OCT has been used extensively in developmental biology research to study the embryological development of various organs and systems. The image to the left is a 3D image of an African Frog (Xenopus laevis) during its tadpole stage. The 3D image is a compilation of adjacent scans. Please see our OCT video for a compilation of 2D images of the the tadpole.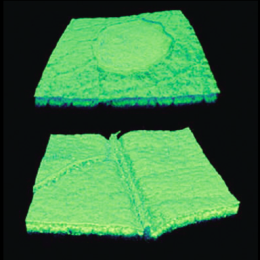 Analyzing a Leaf
The top image to the left shows an unhealthy portion of a leaf. This video is a rotating 3D OCT image of the unhealthy section.
The bottom image to the left is the healthy portion of the leaf. This video shows the 3D OCT image of the healthy section.