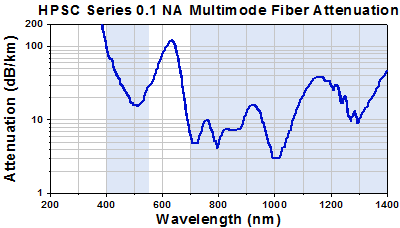 Click for Details
Features
Wavelength Range: 400 - 550 nm and 700 - 1400 nm
Ø10 µm or Ø25 µm Core
Undoped Silica Core and Fluorine-Doped Cladding
Dual Acrylate Coating
Thorlabs 0.1 NA multimode fibers are protected with an enhanced coating material that guarantees long-term performance and reliability. The dual layer acrylate material is easy to strip, leaving no residue. These coating layers have been specially designed to provide transmission in the visible and NIR (400 - 550 nm and 700 - 1400 nm). It provides unsurpassed durability and transmission time stability. These fibers can be used with any one of our Ø125 µm outer diameter multimode connectors, as well as many fiber components designed for Ø125 µm outer diameter single mode fiber.
0.1 NA Multimode Fibers
Item #
Core Size
Cladding Size
Coating Size
HPSC10
Ø10 µm ± 3.0 µm
Ø125 ± 2.0 µm
Ø245 ± 10 µm
HPSC25
Ø25 µm ± 3.0 µm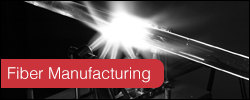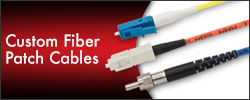 Stock Patch Cables Available with These Fibers
Item #
Fiber Used
Description
Length
M65
HPSC10
SMA to SMA
1 or 2 m
M64
FC/PC to FC/PC
1 or 2 m
M23
FC/PC to SMA
1 m
M68
HPSC25
SMA to SMA
1 or 2 m
M67
FC/PC to FC/PC
1 or 2 m
M39
FC/PC to SMA
1 m
Specifications
Item #
HPSC10
HPSC25
Wavelength Range
400 - 550 nm and 700 - 1400 nm
Numerical Aperture
0.100 ± 0.015
Core Index
Proprietarya
Cladding Index
Proprietarya
Geometric Specifications
Core Diameter
10 ± 3.0 µm
25 ± 3.0 µm
Cladding Diameter
125 ± 2.0 μm
Coating Diameter
245 ± 10 μm
Core/Clad Concentricity
<1.0 μm
Other Specifications
Coating
Two-layer Acrylate
Operating Temperature
-60 to 85 °C
Proof Test
≥100 kpsi
Thorlabs offers multimode bare optical fiber with silica, zirconium fluoride (ZrF4), or indium fluoride (InF3) cores. The graph below is an attenuation comparison of our step-index silica core fibers. We also offer fluoride core fiber for higher transmission into the mid-infrared as well as graded-index fiber. The table below details all of Thorlabs' multimode bare optical fiber offerings.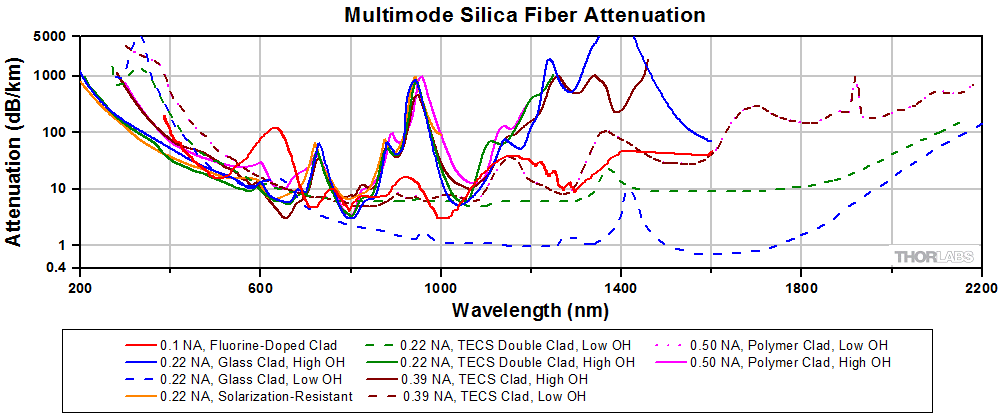 Attenuation of Thorlabs' Silica Core Multimode Step-Index Fibers