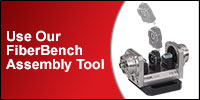 Ever since Thorlabs acquired the versatile FiberBench product line from Optics For Research (OFR) in 2007, we have been fine tuning the overall design to offer more long-term stability and excellent coupling efficiency. These FiberBenches form the foundation of a nearly infinite array of miniature fiber optic systems that customers have been building for the last decade. When used with the FiberPort Collimators/Couplers, a complete optical circuit can be constructed.
The all-stainless steel construction offers the stability required when building fiber optic systems. Thorlabs offers Single-Axis and Multi-Axis FiberBenches, both of which are featured below. For basic systems that require only one input and one output path, the Single-Axis FiberBenches are ideal; for more complex systems that require multiple inputs and outputs, we recommend the use of the Multi-Axis FiberBenches.
One of the main advantages of building FiberBench systems is that all the components are aligned along common beam paths (14.3 mm above the deck) that are parallel to the base. Thus, they simplify setups that would normally require extensive alignment procedures. The equally sized and uniformly spaced mounting holes on the FiberBenches are designed to hold a wide array of FiberBench accessories. Except for some mounts that would go on the side of the FiberBenches, all the accessories have dowel pins that can be easily inserted into the FiberBenches. For more information or custom requests, please contact Tech Support.

Click to Enlarge
Multi-Axis FiberBench with
FiberPorts
in Three of the Four Available Locations, Along with Some Common FiberBench Components
Multi-Axis FiberBenches: Optical Beam Diagrams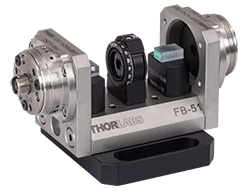 Click to Enlarge
Variable Optical Attenuator Application
A continuously variable attenuator can be assembled using the FiberBench components listed in the table below. The FiberPort collimates the beam from a SM or PM fiber, and the collimated beam then goes through a calcite beam displacerwhere it is split into its respective horizontal (P) and vertical (S) components. The orientation of the wave plate controls how much energy is in the beam. It can be rotated to give the desired attenuation - zero, partial, or full. The signal then enters a reversed calcite beam displacer where it will be recombined or further separated. The only energy that will couple back into the output fiber is the signal on the central axis. The central beam will then be focused into the output fiber by the output PAF FiberPort.
| Item # | Qty | Description |
| --- | --- | --- |
| PBB-IR-10-L | 1 | Calcite Beam Displacer (Left-Handed) |
| PBB-IR-10-R | 1 | Calcite Beam Displacer (Right-Handed) |
| PAF-X-2-C | 2 | Fiber Collimator/Coupler |
| FB-51W | 1 | FiberBench |
| FBR-AH3 | 1 | Rotating Half-Wave Plate |
| P1-830A-FC-2 (or similar cable) | 2 | SM or PM Fiber Patchcord Required |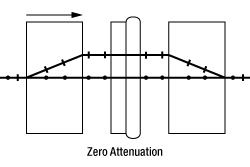 Click to Enlarge
The RABH wave plate is rotated so that there is only one output beam; this also means that the input and output polarizations are the same.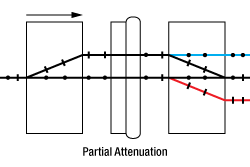 Click to Enlarge
The RABH wave plate is rotated so that there are three output beams. The RABH orientation will control how much energy is in each beam. The only energy that will couple into the fiber is the energy in the central beam. The attenuation range is 1 to 40 dB with any value in between.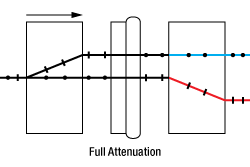 Click to Enlarge
The RABH wave plate is rotated so that there are two output beams, which will be displaced to the left and to the right of the center. In this position, there will be minimal coupling efficiency, resulting in a maximum attenuation of 40 dB.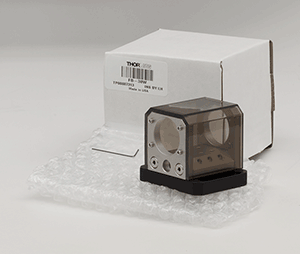 Click to Enlarge
FB-38W Packaging
Item #
% Weight
Reduction
CO2-Equivalent
Reductiona
FB-38W
55.61%
2.18 kg
FB-51W
46.44%
2.56 kg
FB-76W
21.19%
1.31 kg
FT-51X60
25.55%
0.96 kg
Smart Pack
Reduce Weight of Packaging Materials
Increase Usage of Recyclable Packing Materials
Improve Packing Integrity
Decrease Shipping Costs
Thorlabs' Smart Pack Initiative is aimed at waste minimization while still maintaining adequate protection for our products. By eliminating any unnecessary packaging, implementing packaging design changes, and utilizing eco-friendly packaging materials for our customers when possible, this initiative seeks to improve the environmental impact of our product packaging. Products listed above are now shipped in re-engineered packaging that minimizes the weight and the use of non-recyclable materials.b As we move through our product line, we will indicate re-engineered packages with our Smart Pack logo.