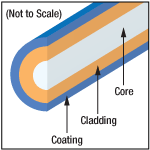 Click to Enlarge
Basic Structure of a Typical Optical Fiber
This page contains our selection of accessories for multi-axis flexure fiber stages. These include fiber clamps, fiber holders, and axial force sensors. We also manufacture magnetic clamps that hold fibers in our V-groove fiber holders. We also offer bare fiber chucks and a rotator for Fiber Launch platforms, as well as other Fiber Optomechanics.
The V-groove fiber holders on this page are typically used to clamp fibers with the coating intact. The diagram to the right shows the structure of a typical fiber, which consists of a core, a cladding, and a coating (note that the diagram is not to scale). The coating serves to protect the cladding of glass fibers from particulates that may land on the surface of the fiber, causing it to become brittle. Although this layer may also have optical properties that allow it to double as a second cladding, it is still referred to as the coating layer due to the protective properties. The term "buffer" is often used instead of "coating" when the layer surrounding the cladding is composed of Tefzel, as this material bonds differently to the glass cladding than other common coating materials such as acrylate or TECS. Some fibers may also have an additional jacket, or buffer applied on top of the coating layer. To determine whether one of the clamps available below is compatible with the fiber used in your application, you must know the diameter of the outer layer (coating, additional jacket, or buffer layer). This value needs to be within the range of specified fiber diameters for the clamp.
Documents Tab to be Discontinued...
Please note that this tab will be removed at the end of 2015. The same information displayed here can be found by clicking on the red Docs Icon (

) next to the item of interest in the pricing area below.
Click the

document icon or Part Number below to view the available support documentation
| | | |
| --- | --- | --- |
| Part Number | | Product Description |
| AMA010 | : | Cleats with 6-32 Locking Screws, Qty. 15 |
| AMA010/M | : | Cleats with M3 Locking Screws, Qty. 15 |
| AMA034 | : | Post for FSC103 Axial Force Sensor, 75 mm Optical Height |
| AMA035 | : | Post for FSC103 Axial Force Sensor, 125 mm Optical Height |
| AMA111 | : | Narrow Device Mounting Clamps, Qty. 2 |
| FSC102 | : | V-Grooved Fiber Holder Axial Force Sensor for Multi-Axis Stages |
| FSC103 | : | Axial Force Sensor with Grooved Platform for Multi-Axis Stages |
| FSC103/M | : | Axial Force Sensor with Grooved Platform for Multi-Axis Stages, Metric |
| HFA001 | : | Standard Adjustable fiber array holder for Multi-Axis Stages |

| | | |
| --- | --- | --- |
| Part Number | | Product Description |
| HFB001 | : | SMA-Connectorized Fiber Holder for Multi-Axis Stages |
| HFB004 | : | FC/PC-Connectorized Fiber Holder for Multi-Axis Stages |
| HFB005 | : | FC/APC-Connectorized Fiber Holder for Multi-Axis Stages |
| HFF001 | : | Quick-Release Cylindrical Device Mount for Multi-Axis Stages |
| HFF003 | : | Quick-Release Ø150 µm to Ø341 µm Fiber V-Groove for Multi-Axis Stages |
| HFM001 | : | Pack of 6 Magnetic Clamps for Multi-Axis Stages |
| HFS001 | : | Strain Relief Clamp for Fiber Optic Cables for Multi-Axis Stages |
| HFV001 | : | Standard V-Groove Fiber Holder for Multi-Axis Stages |
| HFV002 | : | Tapered V-Groove Fiber Holder for Multi-Axis Stages |